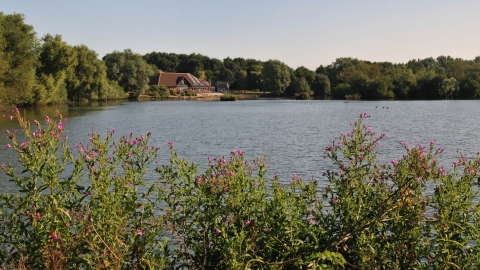 The Nature Discovery Centre is surrounded by a mosaic of different habitats with fantastic wildlife to see all year around.
Location
Know before you go
Entry fee
Donations to help support our work for local wildlife are welcome via our donation stations in the car park
Parking information
car park
Walking trails
Colour-coded waymarked walking routes 
Access
Flat and level around the lake. 
Dogs
Guide dogs only
Dogs are welcome on the reserve, but please keep them out of the lake. We ask that you keep dogs under close control at all times. Dogs, except assistance dogs, are not permitted inside the visitor centre.
When to visit
Opening times
The Nature Discovery Centre is now open Wednesday - Sunday, 10am-5pm. This includes the cafe (takeaway only), shop and outside toilets.
Best time to visit
All year round
About the reserve
The Nature Discovery Centre is surrounded by a mosaic of different habitats with fantastic wildlife to see all year around. Wander along the paths beside the lake, visit the internationally important Thatcham Reedbeds nature reserve or explore some of the nearby woodland. There is large network of footpaths, perfect for family days out or for the more adventurous. 
Birds
During the autumn and winter, large groups of wintering wildfowl congregate on the lake, whilst the reedbeds and surrounding woodland and hedgerows host birds like fieldfare and redwing.
In spring and summer purpose-built rafts attract breeding common terns. House martins, swallows and swifts are a common sight over the lake and surroundings.
Throughout the year, one of our volunteers surveys the species of bird found on site. Below is a list showing the trend of different species and numbers of each throughout the year. 
Nature Discovery Centre bird list - 2020
Nature Discovery Centre bird list - winter 2021
Our volunteer also leads regular walks around the reserve to help visitors learn about what they can see and hear during their visit and to learn more about each species. 
Plants
In summer there are glorious displays of purple loosestrife, yellow-flag iris, reeds and sedges on the floating island, the lake shore and in the reedbeds.
All year around look out for the willow and alder around the edge of the lake, and hawthorn, blackthorn, spindle and bullace in the hedgerows.
Invertebrates
A variety of moths and butterflies can be seen, including garden tiger, butterbur, waved black, holly blue, and gatekeeper. There are dragonflies and damselflies including beautiful and banded demoiselles, emperor and four-spotted chaser. A range of beetles such as bloody-nosed beetle and rhinoceros beetle have been recorded on site.
Thatcham Reedbeds
Visit the nearby Thatcham Reedbeds, one of the largest areas of inland reedbed in Southern England and home to some of the country's rarest reed specialists, including Desmoulin's snail.