Hedgerow Havens project 
Making space for wildlife 
Hedgerow Havens is a joint project between the Berks, Bucks and Oxon Wildlife Trust and Buckinghamshire Council that aims to conserve farmland species in the area around Aylesbury. By working with local landowners and parish councils, the project will improve the quality of 'linear' habitats like hedgerows, field margins, ditches, road verges, watercourses, scrapes and ponds on farms and in villages.
'Linear' habitats like hedgerows, road verges and ditches are home to many different species, as well as providing corridors for wildlife to travel along. Hedgerows alone support 21 species listed on the Biodiversity Action Plan (BAP), a register of threatened species, while road verges in the UK are home to over 720 plant species. By restoring existing linear habitats and creating new ones, this project will conserve and protect the wildlife that calls them home.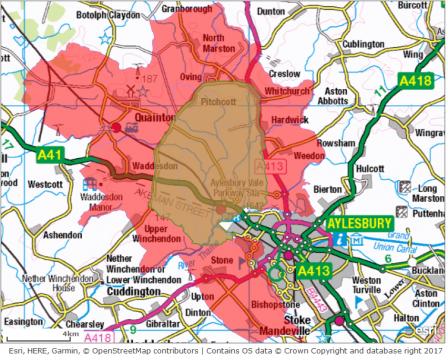 How the project works
we offer practical assistance and advice to local landowners and parish councils
 

we administer grants to local landowners and parishes who are willing to sign up to new, wildlife friendly methods of management
To find out more about the project, contact marcusmilitello@bbowt.org.uk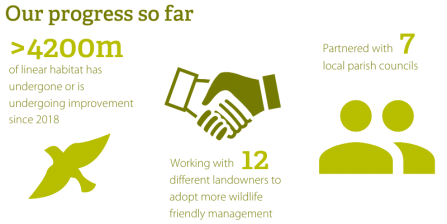 How you can get involved
Volunteering opportunities
Volunteering opportunities vary from hedge laying and planting during the autumn and winter months through to hedgerow and bird surveys during the summer. 
There will be regular opportunities to carry out surveys and practical work. At present these are every other Monday, along with other ad hoc days.
Local parish groups
As part of the project we are also looking to set up locally led parish groups to carry out conservation work on parish green spaces and local farms.
If you're from in or around the project focus area, are interested in any of the above and would like to find out more, please email marcusmilitello@bbowt.org.uk
Case studies
Find out more about Hedgerow Havens work in Whitchurch, Weedon and at Rectory Farm by following the links below.
Habitats
Find out more about the habitats that the Hedgerow Havens project works to conserve.
Species
These habitats are home to lots of different species of plant, bird and mammal, including threatened species. Find out more about the different species that the project aims to conserve and protect.
Farmland birds
Other species
As well as farmland birds, lots of other species use linear habitats to feed and breed. These include rare butterflies like the black hairstreak.
We are also working closely with several parish councils, including: