Investing in wildlife is good for business

For as little as £50 a month (or £500 a year + VAT) your company can demonstrate its commitment to sustaining its local environment by becoming an Investor in Wildlife.
The Berks, Bucks and Oxon Wildlife Trust (BBOWT) is well known for reversing nature's decline, and your staff and customers can be part of that. In turn, you can enhance your brand and motivate your staff, by receiving the following benefits:
Use of the Investor in Wildlife logo on your website, presentations, publications and social media
Listing on our website, which has over 450,000 annual hits
Posters for your premises showing your support, the benefits of nature for wellbeing, and local nature reserves near your offices
Copies of our reserves handbook Your Wild Guide, so staff can explore their local wildlife and wild places
Wildlife at Work emails to circulate to your staff
Invitations to our bi-annual free Investors in Wildlife networking events.
Read more about becoming an Investor in Wildlife below, or scroll down to explore our bespoke package options.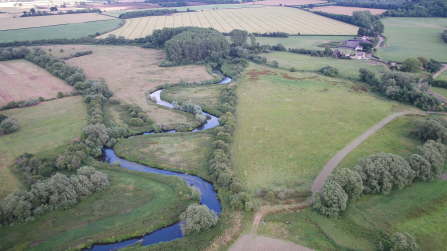 BBOWT is a perfect fit - they are local, flexible, and have a great team to help us do various activities that support our cause.
Bespoke package options
In addition to our Investors in Wildlife offer we can also support an enhanced, bespoke package that includes a tailored Wild Wellbeing programme, sponsorship, or marketing with BBOWT – see below for further details.. 
Sponsoring your local Wildlife Trust

You can improve brand exposure and engagement with staff by supporting conservation projects, environmental education, wildlife events, nature reserves, urban projects or wider landscape conservation work.

What we can offer

We can help your company communicate your commitment to the local environment through:

Press releases, newspaper articles, social media, and BBOWT's own digital and print newsletters.
We can also co-brand projects, nature reserves and events with your company logo.
Marketing with your local Wildlife Trust

Ponies on Greenham Common by Rob Appleby

If you have a product which supports wildlife conservation or would appeal to an audience interested in nature, we may be able to provide a bespoke marketing solution. We successfully help to market outdoor clothing, binoculars and bird food and will consider promoting products that are 'nature positive'.

With over 35,000 visitors to our website a month, over 400,000 visitors to our nature reserves annually and with a committed membership of over 52,000 people, we can provide significant exposure to a unique and targeted customer base. Identifying your brand with BBOWT could help differentiation, increase brand recognition and promote customer loyalty.

We can construct a package tailored to your needs that uses our marketing channels and assets. 

What we can offer

Member focused advertising 

Multimedia promotion

Visitor centre advertising or retail opportunities
It's great to do something both for local wildlife and the community that benefits us as a company through

offering a way to further strengthen our teams.
Contact Us
If you would like to find out more about becoming an Investor in Wildlife we would love to hear from you. Please contact George Murray, Head of Membership and Corporate Giving, on partnerships@bbowt.org.uk to arrange a meeting. Or fill in the form at the bottom of the page.
Our Investors in Wildlife
Our Company Supporters