I can't praise this traineeship highly enough. I've learnt so much in the last six months alone.
Thank you for your interest. Vacancies are usually published for Ecology trainees at the end of winter and for Conservation trainees at the end of spring. Please check back then.
If you're looking for your first paid role in conservation but don't have the skills and experience employers are looking for yet, why not have a look at our BBOWT Wildlife Traineeships? Our Traineeships offer excellent opportunities to gain the vital skills and experience needed to gain paid employment in the conservation sector.
Many passionate and talented people want to pursue a career in conservation, but lack the necessary skills and experience. Our Traineeships provide essential skills and experience required through training and work-based learning. The hugely successful BBOWT Traineeship scheme has been in place for many years and we are proud that so many of our Trainees have gone on to develop their careers in conservation.
About the scheme

The Wildlife Traineeship scheme provides over 30 Traineeships across Berkshire, Buckinghamshire and Oxfordshire each year. We have four types of Traineeship: Conservation (Reserves Management), Education, Biodiversity (Surveying), and Community, with each running for six months to a year.

Trainees generally attend three days a week for the length of their Traineeship, undertaking practical experience and training that will boost their chances of successfully gaining paid employment on completion.
What our Trainees do

Trainees spend most of their time in relevant occupational activities, providing sufficient meaningful experience for the Trainees to have something they can put on their CV and to use when they apply for jobs at the end of their Traineeship.
Experience provided

The mix of activities varies, depending on the Trainee's host placement. The placements vary significantly and the trainee may be based on a single nature reserve, cover a living landscape, or cover reserves across a whole county. Trainees might also be based in and around a visitor centre or environmental education centre.

Experience gained will be relevant to the nature and location of each traineeship and may include:

habitat management
species identification
rapid assessment botanical surveys
using conservation management systems
managing livestock
volunteer management
leading guided walks and talks
health and safety
assisting with delivery of outdoor curriculum linked learning experiences for school children
access and interpretation work
assisting with planning and delivery of family events and supporting community engagement events
 
What training is on offer?

In addition to the vital skills acquired through occupational activities, the Trainee scheme develops skills through training. There is a programme of core training, with relevant modules available to Trainees. Trainees will be supported by their mentor through regular one to one meetings to set, review against and update objectives that are relevant to the Trainee's development plan.
Core training

The core training is largely conducted in-house, by subject-matter experts - usually members of staff. The programme comprises several one day courses, which are reinforced by work-based activities to consolidate the learning and give trainees real experience.

All trainees take part in Introduction to BBOWT, and Interview and Application Skills training.  In addition, additional optional relevant training is available. Examples of the optional modules available include:

Introduction to Botany
Reserves Management Planning
Conservation Grazing
Managing Livestock on Reserves 
Introduction to Environmental Education
Publicity and Social Media
Safety on Site
Tools workshop
Leading Practical Groups (Volunteers)
Leading a Guided Walk
 
Individual Personal Development Plan

At the start of the Traineeship, each Trainee will meet with their mentor to agree objectives in line with the Trainee's development plan.  This process provides Trainees with the opportunity to set relevant objectives for the duration of their Traineeship. These are reviewed and updated regularly during one to one meetings with their mentor.

Trainees will also be given preferential booking for Developing Your Skills (DYS) courses which are offered by the Trust to build relevant skills and knowledge and are often fully booked very shortly after places are released.

In addition to the training and experience opportunities above, geared to assist Trainees in entering the conservation workforce, the Trust provides Trainees with relevant nationally certified training and compensates for some travel expenses.
What you'll need

Applicants should have a keen interest in UK wildlife conservation, a good level of fitness and be willing to supervise and lead volunteers.

A commitment of three days per week for 6 to 12 months is essential.
See what some of our trainees get up to
Stay up-to-date with our work
Sign up below to receive the latest news from BBOWT, tips about how you can help wildlife, plus information on how you can get involved.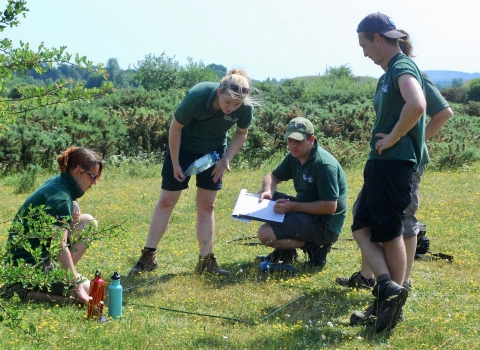 Current traineeship opportunities
Thank you for your interest. Vacancies are usually published for Ecology trainees at the end of winter and for Conservation trainees at the end of spring. Please check back then.