College Lake Environmental Education Centre
For our policy on school bookings during the coronavirus pandemic please see our Covid update.
A journey of learning and discovery at College Lake
New for 2021 – Wild Live Virtual School Trips
Can't visit one of our education centres for a school trip? Let the BBOWT Education team take you on a virtual journey of learning and discovery and bring our nature reserves to your classroom! Our Wild Live sessions cover science curriculum links according to the Key Stage and learning needs of your class. These virtual sessions are delivered straight to your class and pupils via Zoom* and include a combination of live interaction with our Education Team as well as video clips from our local habitats. Virtually explore our nature reserves and meet some of the creatures that live there.
What you need to know before you book:
-Sessions last one hour and can be scheduled at a time during the school day that is convenient for you
-Sessions are delivered to one class at a time
-The cost is £70 for the first session, £130 for two sessions and £180 for three
*Zoom is the preferred platform for delivery of the sessions. We may be able to accommodate alternative arrangements so please get in touch to discuss.
For more information on available Wild Live sessions and to book please contact the Education team for Buckinghamshire, Milton Keynes and Hertfordshire schools at collegelakeeducation@bbowt.org.uk.
 
Education programmes for Primary Schools
A skilled education team will lead your day and engage children's heads, hearts and hands.

Imaginative activities offer links with Early Learning Goals, science and geography and give opportunities for developing literacy and numeracy skills.

A beautiful nature reserve teeming with wildlife, created on the site of an old chalk quarry. Whatever the season, College Lake is the ideal place to visit for a day of learning outside the classroom.
Education programmes for Secondary Schools
Suitable for A or AS level Biology or Environmental Science groups.
Curriculum mapped, hands on fieldwork experience to suit the requirements of exam boards AQA, OCR, Edexcel A and Edexcel B. (If you are teaching with another exam board please contact us to find out if we can meet your requirements.)
Flexible modular day allows you to tailor your experience
Experienced environmental education staff
Beautiful nature reserves with diverse range of habitats
Access to a range of fieldwork equipment
Collect real life data for statistical analysis use back at school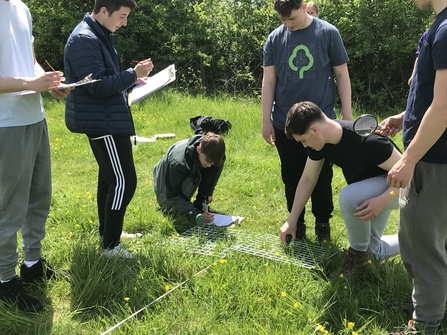 A wonderful day with fantastic learning opportunities in picturesque surroundings.
What you need to know when you visit
Primary schools:
We offer fully-led days for pre-booked groups year round.
Trips usually run from 10am – 2.30pm but timings can be flexible.
We request a donation of £8 per child (or £5 for half-day programmes), adults are free.
Minimum donation of £180 per class (£120 for half day sessions). Please note it may not be possible for us to accommodate requests for half day sessions in our peak periods.
We are located in Bulbourne, on the B488 between the A41 and Ivinghoe (two miles north of Tring).
Secondary Schools:
AS and A level trips usually run from 9:30am-3pm but timings can be flexible
We request a donation of £14 per student for AS and A level
Free places for accompanying staff
We are located in Bulbourne, on the B488 between the A41 and Ivinghoe (two miles north of Tring).
Teddy Bears' Picnic - Reception and Lower KS1

Enjoy a day of stories, games and sensory outdoor exploration and remember, there is also a picnic in the woods so don't forget to bring your teddy! Discover the four secrets of life that enable all animals to survive. Create a new home for your bear and watch out for signs of Chief Teddy Edward. A wonderful introduction to the natural world for your youngest children.
Habitat Safari - Upper KS1 and KS2

Hands-on nature discovery that your class will never forget. Choose three one-hour sessions:

Sensory Nature Walk: Experience sights, smells, sounds and touches.

Pond Dipping: Hands-on exploration of the pond.

Nature Detective Training: Hunt for clues and solve a nature mystery in the woods.

Bug Hunting: Hunt for mini-beasts in our woodland and meadow.

Bird Watching: Spot wetland and garden birds.

Micro-parks: Create a magical, mini-world in the woods.
Geology Rocks - KS2

Travel back in time and discover what College Lake was like millions of years ago when the land was under a tropical ocean. Find out how the chalk, fossils and rocks were formed and what secret discoveries have been uncovered. Enjoy a day of time travel through role play, walks and hands-on exploration. Discover how the landscape has changed and about the amazing wildlife which once made its home here.
Home Sweet Home - KS2

A habitats day with a twist. Come along and meet the Mayor of College Lake and Judge Mop-head! Through walks, simple role-play, discussion and debate, face the challenge of survival as an animal or plant. Later take on the role of Habitat Surveyors to save the woodland and work together to prove that wildlife is interconnected, adapted to its surroundings and needs protection.
A Wild Tale - KS2

Let College Lake inspire your children as they go on their very own wild adventure. Meet the warden and listen to his stories, enjoy outdoor sensory activities, solve a mystery in the woods and even put on a special play. This creative day is crafted to spark ideas, give inspiration to all young writers, and complement literacy activities when you get back to school. Tales and wildlife exploration will engage the whole class and wake up all your imaginations!
Earth Caretakers - Upper KS2

Take part in a day of exploration and adventure to learn five secrets of planet Earth. Go on a magical nature walk, discover a lost secret, learn about food chains on our energy flow training and solve a riddle. Your young Earth Caretakers can begin to see how they can make a difference to their planet and use ideas back at school.
Biology and Environmental Science – A level/AS level

Secondary school biology students pond dipping at College Lake.

Start the day with an introduction to The Wildlife Trusts and today's course, putting the students' academic learning into the context of wildlife conservation and the students' futures. Choose one of two short module options, either an Introduction to fieldwork equipment and sampling techniques, giving students the chance to try out lots of different equipment for taking biotic and abiotic measurements; or a Conservation and biodiversity walk, visiting different habitats within the reserve and learning about the strategies we can use to conserve and increase biodiversity. The remainder of the day will be spent completing two investigations – you choose from random, systematic or stratified sampling options. Students will work in groups to follow a standard scientific method and come out with a set of results for each investigation suitable for use in statistical analysis back at school. We will cover risk assessments and scientific drawing within the investigation process. Please get in touch for more information.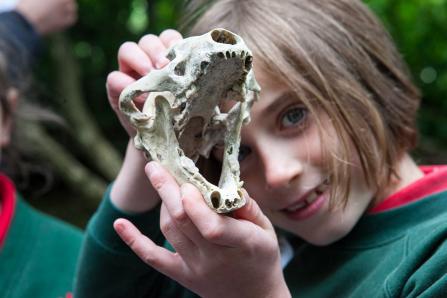 At the end my head was whirling with sounds and thoughts of nature.

Newton Blossomville School
Booking a trip is easy!
Contact us on collegelakeeducation@bbowt.org.uk or 01442 826774.
Discuss your topic choices and confirm the date/s with us.
We'll send out your booking pack, containing a booking form, risk assessments and location map.
Complete the booking form and send it back to us before you visit.
Where to find us
We are located in Bulbourne, on the B488 between the A41 and Ivinghoe (two miles north of Tring) at:
College Lake Environmental Education Centre, Upper Icknield Way, Bulbourne, Tring, HP23 5QG
Download a map and directions
What's on at College Lake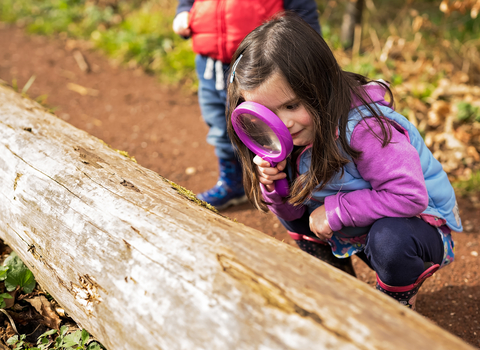 Free Go Wild Guide
Whether you live in a town or the country there are new wildlife experiences waiting to be discovered right on your doorstep. Our Go Wild Guide is packed with exciting activities to get your children outdoors.
Download your Go Wild Guide
More ways to discover and learn
From planning a group visit to joining one of our wildlife clubs, there are lots of ways for young people to discover wonderful wildlife in our three counties.