High Speed Two and Wildlife
The High Speed 2 (HS2) Ltd. project is a serious threat to precious wildlife and habitats, including some of our nature reserves. We have been campaigning against it since 2010.
In the most comprehensive environmental assessment to date, released in January 2020, we can reveal the sheer scale of potential damage from HS2. Our report shows that the deep cut HS2 will make across the landscape could stop nature's recovery in its tracks. As the costs to nature escalate, we're urging the Prime Minister Boris Johnson to use his power now to stop and rethink this project, or the scar may never heal.
As currently planned, HS2 will be bad for wildlife, bad for the environment and destroy precious, irreplaceable habitats. Unless the project is radically changed, it should be scrapped. If HS2 does go ahead, it must incorporate a greener vision and deliver biodiversity net gain.
Over the last few years BBOWT has met with politicians, HS2 representatives and their key contractors to set out the devastating effect on wildlife the project would have. However, works have continued with scant regard for the environment. In early December 2019, HS2 undertook clearance works at our Calvert Jubilee nature reserve in Buckinghamshire without advance warning.
Two BBOWT nature reserves – Calvert Jubilee and Finemere Wood - will be directly affected by HS2 Phase 1. Nationally, HS2 will destroy or significantly impact 108 irreplaceable ancient woodlands, which have been around since the 1600s, 33 Sites of Special Scientific Interest, 693 Local Wildlife Sites and 21 Local Nature Reserves, among other precious habitats. Such damage would be unforgivable. This is why we believe HS2 should be scrapped.
About HS2
The first phase of the High Speed Two (HS2) railway between London and Birmingham was given Royal Assent on 23 February 2017.
As a result of BBOWT's long and strenuous campaign for the impacts of HS2 on wildlife to be reduced, some significant changes to the route have been made, but the HS2 line will still have considerable impacts on wildlife along the entire route as well as our nature reserves, Calvert Jubilee and Finemere Wood (more information below).
Since the proposed route was published in 2010, BBOWT has worked hard to reduce the impacts of HS2 on wildlife. BBOWT led the local campaign to speak up for wildlife, called for a Strategic Environmental Assessment (SEA) of the project and encouraged people to take part in public events.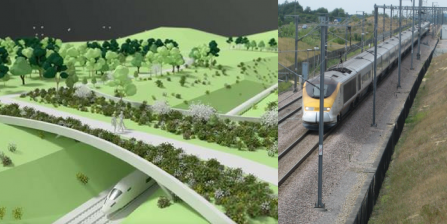 What is BBOWT doing to improve the future for wildlife and impacts on our nature reserves?
BBOWT continues to push for improvements where we can. The Wildlife Trusts are represented on the Ecology Review Group for HS2, which will examine the impacts of the construction and operation of the line. The Ecology Review Group will also ensure that targets for replacing habitats and dealing with impacts on protected species are actually met.
 
Phase One of HS2 will have direct impacts on two of our nature reserves: Calvert Jubilee and Finemere Wood. The route of the railway cuts along the eastern side of Calvert Jubilee and the western side of Finemere Wood. The extent of the impact to the meadows at Finemere Wood is not certain yet, as HS2 Ltd has also brought forward proposals to move a railway sidings onto land next to the nature reserve, which will increase the impact even further.
We will keep our web pages for Calvert Jubilee and Finemere Wood up to date with information about contractors working on site, and advise visitors to check these pages before going to the reserves. The impacts on both sites are also likely to be increased as a result of East West Rail (EWR2). The main railway route passes over HS2 at Calvert Jubilee, and the EWR2 spur to Aylesbury runs alongside HS2 at Finemere Wood.
What has BBOWT done to reduce the impact of HS2 on wildlife?
Since 2010 BBOWT has campaigned alongside and in partnership with other organisations, notably HS2 Action Alliance and The Woodland Trust, as well as local groups the Chilterns Conservation Board and the North Bucks Bat Group.
BBOWT produced reports and petitions to the Parliamentary Select Committees, appearing three times before Committees to make the case for better wildlife protection.
As a direct result of our campaigning with The Wildlife Trusts nationally, and with the help of experts Prof John Altringham and Dr Anna Berthinussen from the University of Leeds, we secured:
A requirement for a Barn Owl Action Plan to be carried out. Without this Action Plan, phase one of HS2 is expected to kill 1% of the breeding barn owl population in the UK each year.
A promise to address shortfalls in the amount of wildlife compensation. We also secured an independent review of the calculations HS2 carried out to monitor their own impact on the natural environment.
A commitment for Green Bridges to be built where the line passes through the Bernwood Forest area. These will have 30m wide 'green' planting of grass and trees. The HS2 route through Bernwood Forest bisects a colony of Bechstein's bats, one of the UK's rarest mammals. BBOWT also secured extensive mitigation proposals for woodland creation in Bernwood Forest.
Changes to the Bill to ensure that bats can use the planned underpasses.
Alterations to works to ensure parts of our nature reserves are protected, and to ensure visitor access is maintained.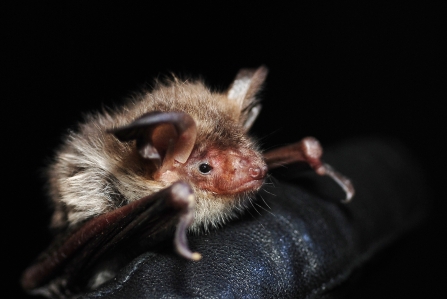 As a result of combined campaigning by BBOWT with HS2 Action Alliance, The Woodland Trust and the Chilterns Conservation Board:
Tunnelling was extended under parts of the Chilterns AONB to avoid ancient woodlands that would have been destroyed or bisected by the route.
The Government changed the way that information on environmental impacts is presented to MPs before they vote on large projects.
The European Commission confirmed that they "remain of the view that large transport infrastructure developments such as this should be addressed….through the process foreseen in the SEA Directive". We supported a legal challenge, asking the UK Supreme Court to rule that a Strategic Environmental Assessment (SEA) should have been carried out.
The Government eventually carried out a review of the possible impacts of HS2 on the South West London Waterbodies, a Special Protection Area for wildlife, just before the failure to carry out the review was addressed in the High Court.
HS2 Ltd removed ancient woodland impacts from their calculation of "no net loss" to biodiversity. Having Ancient Woodland in the calculations for a scheme approved by Parliament would have given the green light to other developers that they could damage irreplaceable habitats and still claim they were producing "no net loss" of impact.
An additional £5million has been provided by HS2 Ltd for tree planting along the route.
Keep up to date
Find news updates and information about High Speed Two and BBOWT's other campaigns.