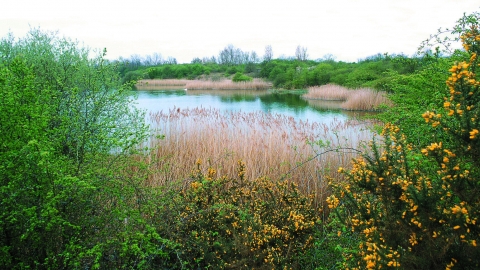 Please note: from Tuesday 28 July, HS2 Ltd will take possession of part of Calvert Jubilee nature reserve. They have not informed us which paths or gates they will be closing. For more information when planning your visit, please contact HS2 Ltd on 08081 434 434 or hs2enquiries@hs2.org.uk.
A lakeside sprinkled with wild flowers - a haven for birdwatchers with tufted duck, kingfisher and common tern.
Know before you go
Entry fee
No
Parking information
Small car park opposite Greatmoor Sailing Club.
Grazing animals
Yes
Walking trails
Bridleway and board walk
Access
Flat; mostly bumpy but there is a flat surfaced path leading to the hide; gate, steps, bridges
When to visit
Opening times
Open at all times
Best time to visit
December to August
About the reserve
Water wildlife
This tranquil Buckinghamshire reserve is a delightful place to watch wintering wildfowl such as mallard, tufted duck and pochard.
Its large 'lake' was created by clay extraction for the brick industry. Later, part of the site was a municipal rubbish tip. Steep banks were carefully sculpted to form shallows in front of two bird hides while the creation of three floating raft islands have enabled common terns and waterfowl to nest away from local foxes. There are also kingfishers here. In winter, a lucky birdwatcher might see bittern, smew, scaup, goldeneye, goosander and glaucous gull.
Listen out for chiffchaffs, blackcaps and willow warblers. Dense reedbeds have been planted at the shallower, northern end of the lake, and a small pond has been created to attract frogs and other amphibians.
Flowery scrubland
The scrubby area around the lake contains a surprising range of wild flowers, including delicate orchids. The flowers support a range of butterflies including the grizzled skipper and green hairstreak. 
Please note that swimming and fishing are not permitted at this nature reserve.
Contact us
Berks, Bucks & Oxon Wildlife Trust (BBOWT)
Updates about the High Speed Two rail project
We have been informed by HS2 that they plan to take possession of a part of Calvert Jubilee nature reserve on 28 July 2020 to undertake clearance works. We have not been given detail about the area or scope of the work. We will update this webpage when we have more information. In the meantime, please contact HS2 Ltd on 08081 434 434 or hs2enquiries@hs2.org.uk.
We were dismayed to discover that HS2 have closed footpaths and begun clearing parts of Calvert Jubilee nature reserve without any warning or notice. The works should be stopped immediately and the Oakervee Review into HS2 be allowed to report back before any decision is made of whether clearance works should take place. 
We have denied contractors working on behalf of HS2 access to Calvert Jubilee nature reserve to carry out clearance works until they produce a scheme of works and mitigation that addresses our concerns and respects the needs of wildlife. Their works to create new habitat to compensate for habitat that will be lost as a result of HS2 should take place well in advance of any clearance works. The risk is that habitat is destroyed, HS2 is scrapped, no new habitat is created and we will have lost precious habitat and species for nothing. BBOWT strongly opposes HS2's plans as they currently stand.
We have received notice from High Speed 2 (HS2) that they intend to carry out clearance works at Calvert Jubilee. We have met with representatives of HS2 to make it clear that the scale and timing of the works will have a devastating effect on wildlife. We have also sent a formal letter to HS2 requesting specific details of the areas to be cleared, how this clearance will take place and the mitigation that will be put in place to compensate for the damage to wildlife.
We believe that the works will cause unnecessary and unwarranted destruction of important breeding and feeding habitats for a range of species. We therefore strongly object to the proposals as they stand.
If we do not consider that the mitigation proposed by HS2 is adequate we will, to the extent relevant legislation allows us to, refuse access to BBOWT's land until HS2 produce a scheme of works and mitigation that addresses our concerns and respects the needs of wildlife.