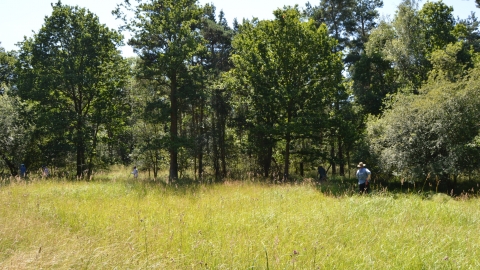 A dynamic yet fragile woodland habitat renowned for its beautiful butterflies and wild flowers along the wide, grassy rides
Know before you go
Entry fee
No
Parking information
On Boarstall to Murcott road, 0.25 miles north of turn to Arncott, take track opposite the cottage; go through second gate to surfaced car park 150 metres from reserve; please close gates behind you. Please do not park on access track or neighbour's land
Walking trails
Circular Wildlife Walk (2.25 miles) - follow the badger waymarkers.
Access
Mainly flat, sloping at southern end, flat rides bumpy paths, some roots, bench
When to visit
Opening times
Open at all times
Best time to visit
All year round
About the reserve
Ancient woodland
This area has been wooded since at least 1600. The nature reserve has undergone many changes in recent years. More than half of the wood was felled and replanted with conifers in the 1960s. Now, the large area of densely planted conifers is being slowly removed so the wood can return to majestic, native broadleaved woodland. Cleared areas are already softening with oak, ash, birch, willow, hawthorn and wild flowers.
Wildlife highlights
In spring, primroses and bluebells flourish in the old coppice area. Along the rides hares are frequently seen during the mating season in March and April. By May, these wide swathes of grass are rich in wild flowers. One of the rarer species you can see here is the grass vetchling, a member of the pea family, which flowers from May to July.
Abundant butterflies
In summer butterflies are abundant. Look out for the marbled white and common blue. The magnificent purple emperor may be spotted in July basking on the bare earth before vanishing up into the oak tree canopy. Look out for the silver-washed fritillary and white admiral too. 
BBOWT's careful management of the blackthorn bushes is helping to strengthen the survival of rare black and brown hairstreaks. Both species are small and elusive and depend upon the blackthorn as a food source for their caterpillars.
Regal history
This reserve is part of our Bernwood Forest project: a five-year project to enhance and recreate the woodland, meadow and hedgerow habitats across five BBOWT nature reserves on the Buckinghamshire - Oxfordshire border.
Things to do
Try our circular Wildlife Walk (2.25 miles).  Just follow the badger waymarkers.
Look out for our seasonal guided walks including autumn fungus forays - check our events.
Volunteer with our local work party.
Warning! Site at risk from increased trampling! Please stick to the mown paths to preserve this wonderful habitat.
Habitat
Contact us
Berks, Bucks & Oxon Wildlife Trust (BBOWT)
Environmental designation
Site of Special Scientific Interest (SSSI)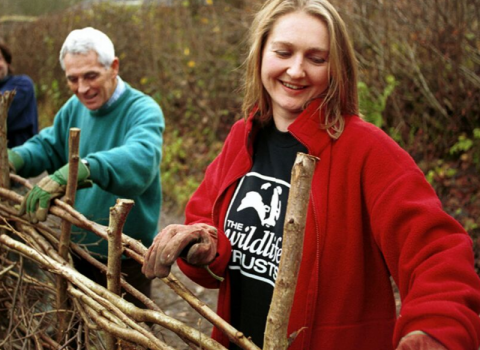 Volunteer with us
Our volunteers help us in so many ways - by working on nature reserves, helping at visitor centres, leading walks, training others and much, much more. Without our volunteers we would not be able to carry out much of our work.
For more information about volunteering for BBOWT, please get in touch with volunteering@bbowt.org.uk