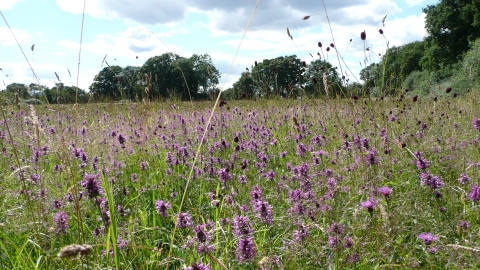 A survivor from days gone by, Woodsides Meadow is part of a complex of rich wildflower meadows with more than 100 plant species.
Location
Know before you go
Entry fee
No
Parking information
Park on roadside in Wendlebury village (OX25 2PT) and walk 1/4 mile south-west along Oxford Road, then take public footpath/bridleway south of village for 1/2 mile. There is no access to this reserve from Charlton-on-Otmoor.
Grazing animals
Yes
Access
Flat; rough ground, no paths; gate
When to visit
Opening times
Open at all times
Best time to visit
March to August
About the reserve
Unimproved grassland
Woodsides Meadow is part of the internationally important Wendlebury Meads and Mansmoor Close SSSI, one of the largest continuous complexes of rich wildflower meadows. 
Here, there are still the medieval 'ridge and furrow' plough marks, testifying to the fact that the site has never been 'improved' by modern farming. Swathes of wild flowers appear in profusion each year, with over 100 plant species recorded, including pepper-saxifrage, betony and sneezewort. Green-winged orchid can be seen in spring on the drier ridges, while the damper conditions in the furrows support moisture-loving cuckooflower and ragged-robin. 
Birds and butterflies
Several species of butterflies may be seen, such as orange-tip, marbled white and white-letter hairstreak. Skylarks are seen regularly, and sightings of brown hare are common.
Contact us
Berks, Bucks & Oxon Wildlife Trust (BBOWT)
Environmental designation
Site of Special Scientific Interest (SSSI)