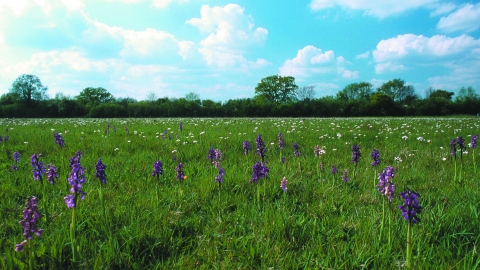 A lovely expanse of grassland, Asham Meads harbours rare communities of national and local botanical gems, including maroon-flowered great burnet, meadow fox-tail grass and tubular water-dropwort.
Know before you go
Entry fee
No
Parking information
On Boarstall to Murcott road, after bridge over M40, continue west towards Murcott for 2 miles, take left turn to Whitecross Green Farm. Go through farmyard, turn left over bridge into unsurfaced car park. If full, park at nearby Whitecross Green Wood.
Grazing animals
Yes
Access
Ridge and furrow, uneven underfoot and soft when wet; kissing gates. No access to Upper Marsh.
When to visit
Opening times
Open at all times
Best time to visit
March to August
About the reserve
Ancient meadows
These lovely expanses of Oxfordshire grasslands, near Otmoor, harbour rare communities of national and local botanical gems. Asham Meads - probably named after the lost Otmoor village of Nash - is made up of three damp meadows (Upper Marsh, Lower Marsh and Rowbottom), an oak plantation which dates from the 1930s, a pond, hedges and scrub.
Ridges and furrows
The meadows were once ploughed into ridges and furrows. The ridges of the north-eastern field, Rowbottom, are covered by maroon flowers of great burnet, dropwort and meadow foxtail grass. Nestling in the wetter furrows are marsh-loving plants, such as ragged-robin and the uncommon tubular water-dropwort. On the ridges of Upper and Lower Marsh you will find common knapweed and traditional meadow grasses crested dog's-tail and sweet vernal-grass. Among the panorama of flowers are pepper-saxifrage, yellow rattle, saw-wort and many green-winged orchids. 
Home to rare butterflies
All these flowers support a host of butterflies. The rare and hard-to-spot black and brown hairstreak butterflies are to be found in the blackthorn hedges, the foodplant of their caterpillars. In summer, the meadows themselves positively shimmer with small copper, meadow brown and marbled white butterflies.
A bird haven
Listen out for skylarks, blackcap, yellowhammer and curlews in the breeding season. 
Habitat
Contact us
Berks, Bucks & Oxon Wildlife Trust (BBOWT)
Environmental designation
Site of Special Scientific Interest (SSSI)