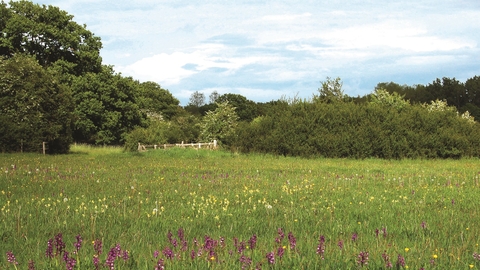 Traditional hay meadows from yesteryear, brimming with wild flowers and insects including green-winged orchids and forester moths.
Location
Know before you go
Entry fee
No
Parking information
Small surfaced car park open Mar - Aug. Please note there is a vehicle height barrier at the entrance. During winter alternative car parking can be found at Bernwood Forest, on Oakley Road, HP18 9UR.
Grazing animals
Yes
Walking trails
There are footpaths through the reserve and into neighbouring Shabbington Wood.
Access
Flat, some bumpy ground, soft after rain; kissing gates
When to visit
Opening times
Open at all times
Best time to visit
March to August
About the reserve
Ancient meadows
This is a wonderful nature reserve to visit from April to early July when the wild flowers are in bloom and butterflies abound. Over 100 plant species have been recorded here thanks to BBOWT's careful management, and it is worth just standing quietly for a moment to take in the buzz and hum of the insects and the spectrum of colour. Don't leave it too late to visit though, as between July and August hay is cut to encourage the growth of next year's flowers.
A natural paintbox
Lady's bedstraw with its clusters of tiny yellow flowers is scattered across the meadows. Green-winged orchids - now uncommon due to the widespread drainage of wet meadows - flourish here in their thousands. Plant communities reflect differences in the soil below. While wetter furrows support damp-loving rushes, meadowsweet and cuckooflower, the drier ridges have species such as meadow buttercup. 
Butterfly and moth heaven
These meadows are also famous for the quantity and variety of butterflies. Carefully managed ancient hedgerows support the rare black and brown hairstreak butterflies. Grassland butterflies include the marbled white, meadow brown, small copper and the dainty common blue. Many day-flying moths can also be seen here, including the burnet companion and the distinctive metallic green forester moth.
Living Landscape
This reserve is part of our Bernwood Forest project: a five-year project to enhance and recreate the woodland, meadow and hedgerow habitats across five BBOWT nature reserves on the Buckinghamshire-Oxfordshire border.
Things to do
Volunteer with our Bernwood Forest work party
Tweet your wildlife sightings to @BBOWT_Bernwood and @BBOWT
For the Forestry Commission's 'Butterfly Trail' leave the far end of the reserve and follow the signs. 
Share your Bernwood Meadows photographs with us! Add them to our Flickr group, and tag them with 'bernwood meadows'.
Habitat
Contact us
Berks, Bucks & Oxon Wildlife Trust (BBOWT)
Environmental designation
Site of Special Scientific Interest (SSSI)