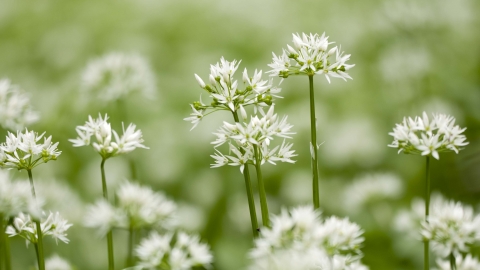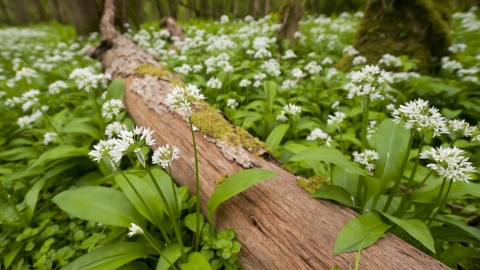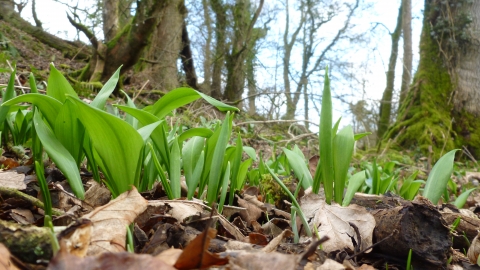 Wild garlic
Scientific name:
Allium ursinum
In April and May, our ancient woodlands are awash with the white, starry flowers and smell of wild garlic. Millions of bulbs can exist in just one wood, giving rise to dazzling 'white carpets'.
Species information
Category
Statistics
Height: up to 35cm
Conservation status
Common.
When to see
April to May
About
Wild garlic spends most of the year as a bulb underground in ancient woodland, only emerging to flower and leaf from April onwards. This early flowering allows it to make the most of the sunlight that is still able to make it to the forest floor habitat, before the canopy becomes too dense. Millions of bulbs may exist in one wood, causing the white, starry carpets and strong garlic smell we so keenly associate with this flower. Wild garlic attracts the attention of plenty of pollinating insects, including hoverflies, butterflies and longhorn beetles.
How to identify
Wild garlic is an unmistakeable plant - the garlicy smell alone can be a tell-tale sign! Otherwise, look for rounded clusters of star-like, white flowers borne on straight green stems. Its leaves are grey-green, oval and narrow, and grow around the base of the stem.
Distribution
Found throughout the UK, but most common in the south.
Habitats
Did you know?
Also known as ramsons, the leaves and roots of wild garlic can be eaten and do smell and taste of garlic.
How people can help
The Wildlife Trusts manage many woodland nature reserves sympathetically for the benefit of all kinds of wildlife. A mix of coppicing, scrub-cutting, ride maintenance and non-intervention all help woodland wildlife to thrive. You can help too: volunteer for your local Wildlife Trust and you could be involved in everything from traditional forest crafts to surveying for woodland plants.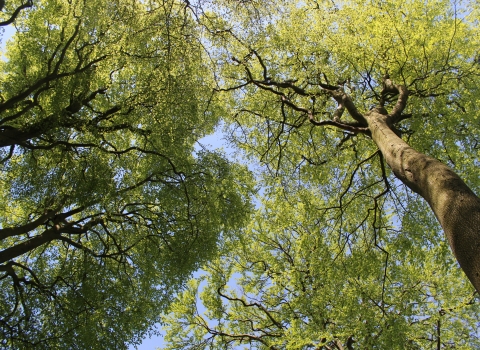 Can you help support our work?
The Wildlife Trusts manage many woodlands sympathetically for the benefit of all kinds of wildlife.
Become a member