Team Wilder story: Think global, act local
Val Siddiqui turned frustration at lack of action on environmental issues into a focus for campaigning for change

Imagine a wilder world on your doorstep, with more nature everywhere in urban and rural areas. Read about how Val turned her frustration about a lack of action on environmental issues into campaigning for change from her local decision-makers as part of Team Wilder.
In my lifetime I have witnessed a terrible decline. In yours, you could and should see a wonderful recovery.
These words from Sir David Attenborough at COP26 struck a chord with me. When I look back, I can recall common sights and sounds that today are rare or completely absent – the sound of cuckoos in spring, the sight of starling murmurations; flocks of swallows; fields of lapwings; dead insects on windscreens; hedgehogs in gardens and wildflowers in fields and along roadsides - the list goes on…
Local, national and international studies all paint a picture of slow, steady decline with the UK coming 29th lowest of 218 countries for 'biodiversity intactness', in its simplest terms that's the amount and variety of native wildlife left.
In our pursuit of economic "progress", we humans have turned a blind eye to the destruction of habitats we are causing and the precious ecosystems they support. The evidence is all around us, yet we continue to miss opportunities to put this right. We share the planet with other life forms. It's their planet too and we need them for our own survival.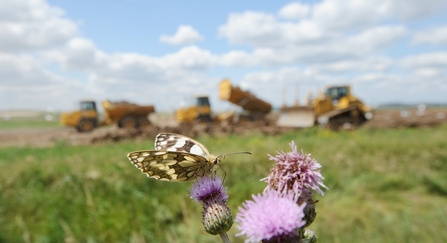 Against this background I started campaigning in earnest when, in 2015, the government rolled back a great number of "green" measures put in place by the Conservative-Liberal Democrat coalition. "Big business", and the fossil fuel companies and developers in particular, had deep pockets and, as a consequence, political influence.
I stepped up notch when I volunteered with the BBOWT Advocacy Team at the time of the 2017 General Election. It was meant to be a six-week stint, but I'm still there and feel even more acutely the need to campaign to save nature.
To me, government rhetoric and actions still aren't aligned, and nature continues to pay the price. Why is the response to the climate and ecological emergency so slow? In many ways, "blah, blah, blah" sums things up very well.
As one of BBOWT's early "Wildlife Ambassadors", over the years I've written to my MP and County and District Councillors on a range of topics – the badger cull, HS2, the Oxford to Cambridge Expressway and Growth Arc, Environment Bill, Agriculture Bill, pesticide use, Planning Reform, Nature Recovery Networks and so on. And I've joined rallies and met my MP on several occasions.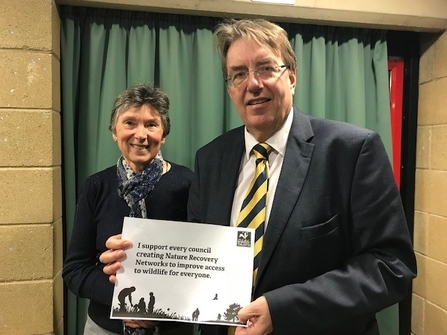 These days I would describe myself as a freelance environmental campaigner with strong links to BBOWT and the Climate Coalition.
The key things when meeting elected representatives are:
Don't be intimidated!
Plan carefully

Be brief and clear
Say what you want from them

Research

MP/Councillor background and voting history
The issue itself

Keep up to date generally, by following:

Environmental media
Campaigners and policy makers on social media
The Wildlife Trusts provide great information for each of their campaigns, but I do a bit of digging myself. I find environmental reporting from the BBC and the Guardian particularly helpful.
Also, social media are more important now than even a few years ago, so I follow wildlife campaigners and policy makers too eg Tony Juniper (chair of Natural England), Chris Packham (Wild Justice), Richard Benwell (Wildlife and Countryside Link) and, of course, the Wildlife Trusts' Chief Executive Craig Bennett and BBOWT's Estelle Bailey. 
(For more hints and tips about meeting your MP etc, see my earlier blog. You can also hear more useful guidance from environmental campaigner Richard Benwell and Councillor Carolyne Culver in this BBOWT training webinar.)
In addition to political campaigning, I'm also involved with my local nature group to try to get more people of all ages interested in nature, on the basis that if they love it, they will want to protect it.
We arrange regular talks and field trips as well as working parties to improve our local green and blue spaces for nature and people. We report our activities on local social media and in the village magazine.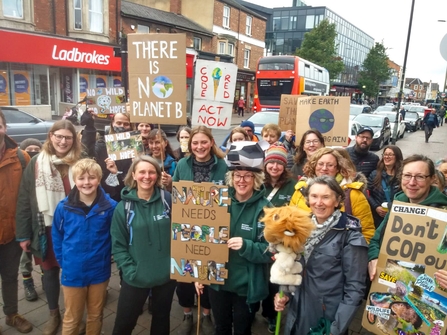 I admit political campaigning can sometimes feel futile. Joined-up thinking and political will often seem to be lacking. I'm never going to be a Greta Thunberg, but sharing my frustration with like-minded people spurs me on to "do my bit" to keep up the pressure for change.
But I do believe that change is in the air now and that the public is ahead of the politicians. Campaigns by numerous NGOs and the work of scientists have stirred the public conscience. As a result, the environment is now firmly on the political agenda.
We've glimpsed this with the climate marches at COP26. And we've seen brilliant projects working on nature's recovery reported by the BBC including the Earthshot prizes awarded by the Duke of Cambridge. And we (at last!) have an Environment Bill and plans for nature recovery networks.
There is still much to be done and it's by no means perfect but it's a foundation on which to build.
The next stage will be a government nature recovery green paper where people can push to remedy some of the shortcomings of the Environment Bill. With increasing numbers of BBOWT members (now over 500) becoming Wildlife Ambassadors, keen to campaign for more nature, there is still room for hope, as Sir David Attenborough says:
Never before have we had such an awareness of what we are doing to the planet, and never before have we had the power to do something about it."  Blue Planet
"It is possible for us to achieve so much more by working together than any one of us can achieve alone."  A Life on our Planet
Find out more about campaigning for the environment