Behind the scenes with BBOWT
Tackling invasive plants, meeting the ponies and discovering what it takes to protect local wildlife during a week's work experience with BBOWT
My week at BBOWT was very inspirational, hardworking and definitely an experience to remember.
Tom: When I got my work experience choice confirmed, I instantly messaged my friends and told them I'd won this lottery. They were working in offices, shops, restaurants but I was in nature. Then I got to BBOWT on Monday and spent the day in the membership office doing data entry on Microsoft Excel!
Poppy: Before going to BBOWT I did not realise how much work it takes and how many people there are working to keep the charity going, and how much planning and time it takes to manage the wildlife. 
I now know that a lot of BBOWT's team are volunteers. To be precise BBOWT has over 1,800 volunteers. It's extraordinary to know that so many people will give up their time in the day to help the local wildlife.
Tom: Our first task was working with the fundraising team to suggest ideas that could help reach the younger generation. We thought of many ideas and eventually made a poster which promoted a potential event that we had envisioned.
After this, we travelled to Iffley Meadows with Andy to measure the ground water levels using a piece of equipment that I had never even heard of, a dipwell. This was great as we were learning new skills and doing it through a fun experience.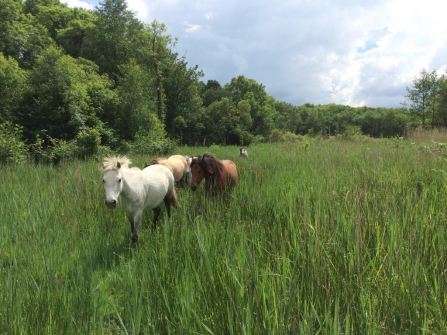 Poppy: The next day we spent moving the ponies to Parsonage Moor nature reserve so they could improve their health by grazing more of a variety of plants. 
As well as improving the ponies' health, grazing there helps wildlife such as insects like butterflies which keep the ecosystem balanced as they pollinate the flowers.
Ginny (one of the Welsh mountain ponies) did not enjoy the journey but she seemed very pleased to be out of the trailer, which made me laugh.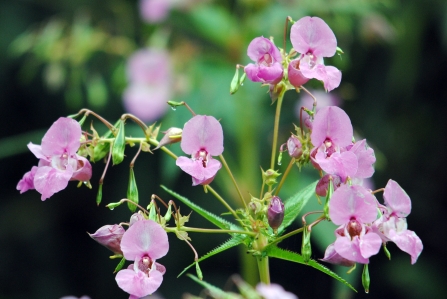 Tom: Next, we worked with eight volunteers to tackle Himalayan Balsam, an invasive species which was taking over at Iffley Meadows. After all of that hard work, I'm sure that in the future, when I see Himalayan Balsam, the plants won't stand a chance.
Poppy: I met a lot of lovely new people who took the time out of their lives to help BBOWT, which I thought was inspiring.
After a long day of hard work we did manage to remove most of the Himalayan balsam which felt very rewarding considering that we worked in hot, muggy weather and the fact that I got stung by nettles more times than I could count.
Tom: When we returned to Wells Farm, it was great to see how well the cows and ponies are treated. There is an excellent equilibrium for the animals between being wild and being given freedom, but being moved to different reserves to graze the fields.
We also met our next worst enemy, ragwort. Our afternoon consisted of eliminating the majority of these plants, which are toxic to the livestock. Matt and Jess helped teach us how to use the Lazy Dog tool to pick the ragwort and were very amiable workers.
For all of this, the weather was incredible and I think we really lucked out with our week's work experience.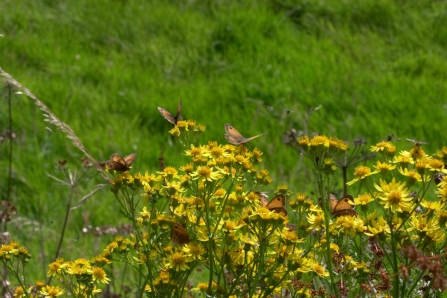 Poppy: My time on the reserves was educational and I enjoyed getting new experiences from the activities we did. The staff really made me feel like I was a part of the team and were eager to show me everything. 
I really enjoyed my time at BBOWT and learned so much from my time being here. I would definitely recommend it to anyone with an interest in wildlife and I feel like it was a great work experience.
Tom: Overall, the experience was not one I will forget and I'm sure I will be seeing some of the BBOWT staff in the future to help them keep our local wildlife as healthy as possible.