Great reserves to visit in November
With nearly 90 nature reserves to choose from in our three counties, which are the best to visit this month?

Discover autumn colours, fabulous fungi and wintering wildfowl.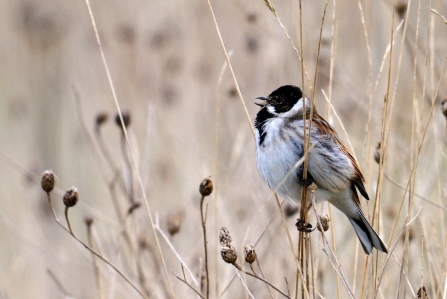 Pause on a walk along the Thames Path to explore Cholsey Marsh nature reserve. Riverside marshes such as this are now scarce because of large-scale drainage.
This nature reserve is home to a wealth of plants, insects and birds that depend on the wet reed and sedge beds. It's a favoured roosting site for wagtails, corn and reed buntings so look out for them gathering if you're there close to dusk.
You might also come across some of our Dexter cattle, which are doing an important job of grazing the land here. Please leave them in peace and don't try to feed or touch them.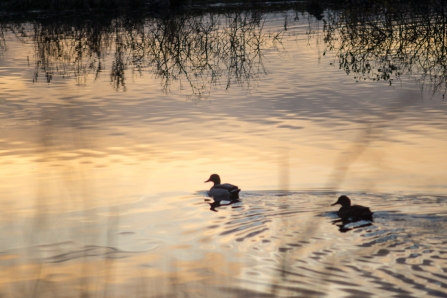 Throughout the late autumn and winter College Lake is home to many overwintering wildfowl. The reserve is widely regarded as one of the best places in Buckinghamshire for water birds and, with many hides overlooking the lake, this is a great destination for bird watchers.
Take the circular walk around the lake to explore the whole site, pay a visit to the many hides as you go. Pop into the wildlife and farming exhibition to find out more about the site's history and the special arable weeds project.
There's also a visitor centre with a cafe and shop to round off your visit.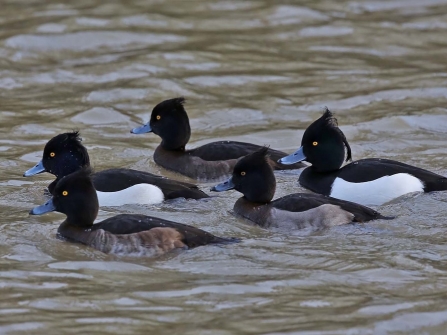 This large, flooded gravel pit on the edge of Twyford has several islands and is surrounded by trees and scrub. Look out for wintering birds on the water such as gadwall, tufted duck, and pochard. You might also spot cormorant and heron as they hunt for food. Although there are stretches of boardwalk, it can get muddy after heavy rain so don't forget your wellies!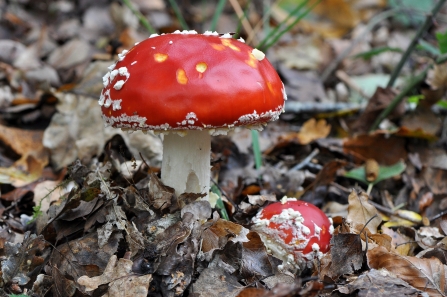 Moor Copse is a wonderful reserve to visit all year round. Large swathes of tranquil woodland surround a patchwork of meadows and pastures set in the heart of the Pang Valley in Berkshire. The River Pang meanders through the woodland providing a beautiful setting that is thought to have inspired E. H. Shepard to illustrate The Wind in the Willows by Kenneth Grahame.
In autumn, the woodlands provide vibrant colour as the leaves gradually turn, and a diverse range of fungi, including deadman's fingers and green elfcup, push up from the leaf litter, or appear on dead wood.
High up in the Chilterns Area of Outstanding Natural Beauty, Warburg Nature Reserve is a remote and magnificent place, rich in exciting plants and animals all through the year.
An incredible 900 species of fungi have been recorded here. Autumn brings glorious colour to the beech woodlands as the trees turn all shades of gold, orange and bronze, and the colourful fungi appear on the woodland floor.
You might also come across some of our sheep and ponies, which are doing an important job of grazing the land here. Please leave them in peace and don't try to feed or touch them.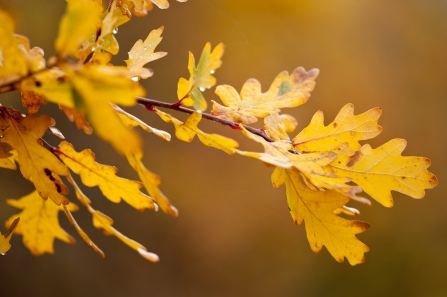 Enjoy beautiful autumn colours at this woodland reserve. This area has been wooded since at least 1600 but has undergone many changes in recent years. More than half of the wood was felled and replanted with conifers in the 1960s. Now, the large area of densely planted conifers is being slowly removed so the wood can return to majestic, native broadleaved woodland. Cleared areas are already softening with oak, ash, birch, willow, hawthorn and wild flowers.
Look out for a rainbow of fungi this autumn!
Stay up-to-date with our work
Sign up below to receive the latest news from BBOWT, tips about how you can help wildlife, plus information on how you can get involved.