BBOWT Conservation Report 2018
Keeping track of our conservation work
Every three years, we report on the state of our nature reserves and on our conservation progress. This report gives a balanced overview of the status of wildlife and wild places that we aim to protect, and looks at our successes as well as the challenges we face.
This is a summary of some of the highlights and key findings from the report.
Wildlife and wild places are essential for the health and wellbeing of people, as well as being an integral part of a functioning planet. At the same time, wildlife in the UK faces ever-increasing pressure from development, intensive agriculture, and climate change. We work hard to tip the balance in favour of nature and face the twenty first century challenges identified in Professor John Lawton's 2010 report, Making Space for Nature [this link will open on the gov.uk site]. Our conservation work is focused on achieving the principles outlined in this report:
More – land managed for nature conservation
Bigger – individual areas managed for nature conservation
Better – quality or condition of wildlife on land managed for nature conservation
Joined – more links and connectivity between nature conservation areas
We achieve this primarily through managing our nature reserves to be wonderful havens for wildlife and engaging with landowners and decision-makers in the wider countryside so that wildlife can be protected beyond our nature reserves.
Over the past three years, we have seen first hand the amazing difference our work has made for the fortunes of wildlife across Berks, Bucks and Oxon. For more details on specific case studies, read the full report. 
Positive outcomes for wildlife 
Silver-washed fritillary numbers have increased, following the increases in hairy violet abundance resulting from our coppicing work at Warburg.
The precious wild flower meadows at Chimney Meadows Nature Reserve have recovered from the severe floods of 2007 thanks to our careful management. The part of the site that is a National Nature Reserve is once again in a favourable condition.
Butterfly diversity has increased from 15 to 20 species at Dancersend, thanks to the restoration of chalk grassland which has increased the abundance of the food plants on which these butterflies feed.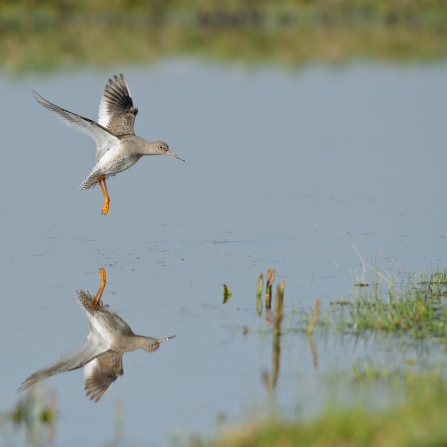 • Lapwing and redshank nested at Hosehill Lake for the first time in 15 years, thanks to our work to remove scrub on the island and make it a safe place for these threatened birds to raise their young.
• Numbers of beautiful Southern damselflies and keeled skimmers increased significantly at Parsonage Moor following our management of the 'runnels' (watery channels that wind their way through the fen) they use to breed.
We have planted 1.2km of new hedgerow, helping link up the countryside and make homes for threatened farmland birds as part of our Hedgerow Havens project.
Our long-term engagement with the Gavray planning application and East West Rail project has paid off, with positive outcomes for wildlife secured.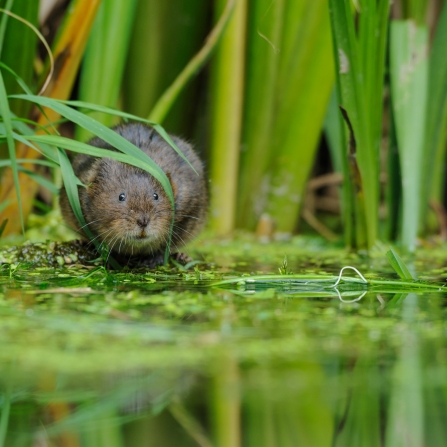 • We have surveyed 600km² of Local Key Water Vole Areas in the wider countryside, offering management advice and defending them from mink where possible.
• Populations of threatened farmland birds like corn bunting and yellowhammer have bucked national trends and remained stable at Wells Farm, thanks to our wildlife-friendly farming practices.
Challenges we face
Successive State of Nature reports have highlighted the grave threats faced by wildlife in the UK. Intensive agriculture, climate change, development pressures, pollution and invasive species are all challenges that we face on our nature reserves and in our work in the wider countryside. 
There are also some more locally specific problems, including deer browsing reducing plant diversity and damaging woodlands, a lack of control over water levels on some of our sites, and dominating scrub. For more detail on how these affect specific reserves, read the full report.
Some examples include:
In spite of our best efforts, nightingale numbers at Hosehill Lake continue to decline in line with the national population (which has undergone a 90% decrease in the past 50 years). Much is known about the breeding requirements of nightingales, meaning our habitat management can be precisely tailored to their needs - but these are migratory birds, and it is thought that conditions in their wintering grounds in sub-Saharan Africa are also contributing to the decline of this species.
Despite ongoing targeted habitat management work (mostly coppicing) on three key BBOWT nature reserves, dormice populations on all three sites continue to decline. This species is in serious trouble nationally - their population has declined by a third since the end of the 20th Century. They are extremely sensitive to unpredictable and adverse weather, meaning climate change is likely to contribute to their decline.
Donate to our work protecting wildlife
We are making a difference for our threatened wildlife, thanks to our generous supporters.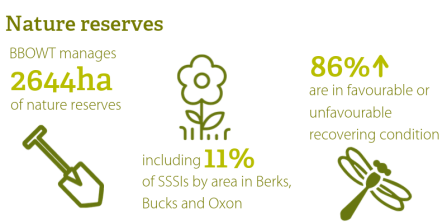 Our nature reserves are at the heart of the work we do. We actively manage them to ensure they are safe places where precious wildlife can thrive, away from the pressures it faces elsewhere. They are also places for people to enjoy the beauty and tranquillity of nature.
Our work on our nature reserves help towards the Lawton objectives of:
More - by increasing the area of land under conservation management
Bigger - by increasing the size of individual nature reserves
Better - by focusing site management to achieve good condition status for wildlife
The full Conservation Report goes into detail about the work we have done on specific habitats, and the outcomes of this work. You can read some key case studies below.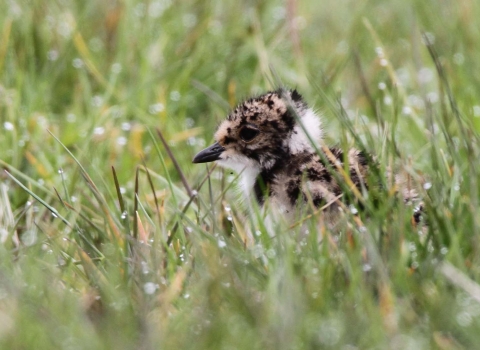 Breeding birds return to Hosehill Island
Our careful management of the island to remove scrub and create bare shingle patches at Hosehill Lake nature reserve, a former gravel pit that has been managed for wildlife since 1988, has been rewarded by the return after 15 years of breeding redshank (an Amber list species) and lapwing (whose numbers have declined across SE England by 42% between 2006 and 2016).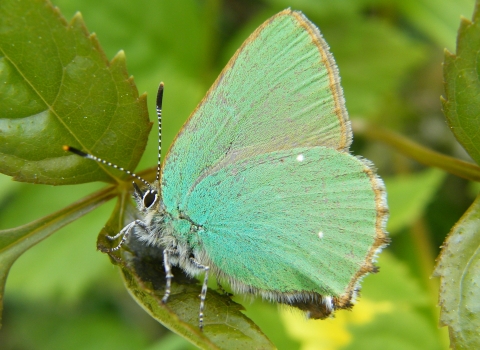 Restoring chalk grassland for butterflies
Butterflies are now flourishing in number and variety at Dancersend extension thanks to a programme of grazing, scrub clearance, and the sowing of seeds from the neighbouring SSSI. New species recorded on the site include dingy skipper, brown argus, green hairstreak, and dark green fritillary.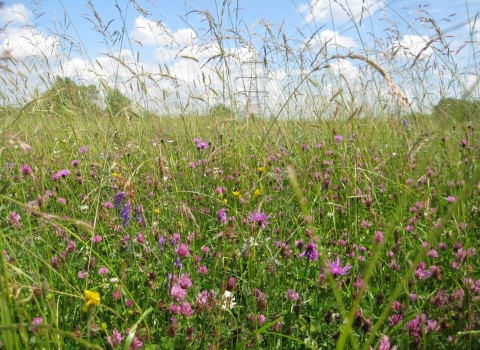 Summer flooding recovery
Our careful remedial management of the rare wild flower meadows at Chimney Meadows after the devastating floods of 2007 has been largely successful and species diversity is improving in the meadows. This is great news for this beautiful habitat, so much of which has been lost in the last century.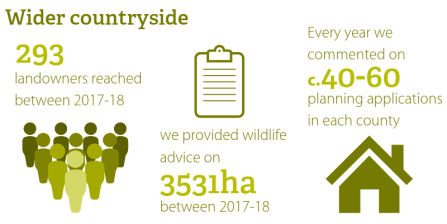 Our nature reserves are jewels in the crown of the countryside, havens for biodiversity that is struggling elsewhere. But for nature to truly recover, we need to link our nature reserves together with the wider countryside.
Government policies have a role to play in this, which is why we are campaigning for a powerful Environment Bill. Here at BBOWT, we provide advice to landowners and influence decision-makers to encourage them to manage land in a way that is favourable to wildlife.
The full Conservation Report contains detailed case studies showcasing our work in the wider countryside. You can see some highlights below.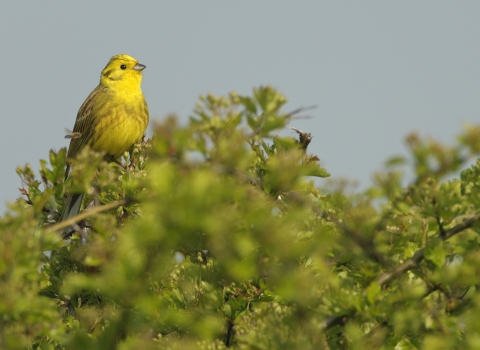 Hedgerow Havens
Our Hedgerow Havens partnership project with Aylesbury Vale District Council is providing advice and practical assistance to landowners and managers. So far, we have laid 1.2km of new hedgerows, which will be havens for threatened birds like yellowhammers, and butterflies like black and brown hairstreaks.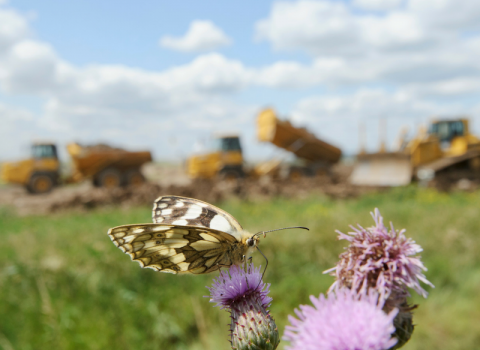 Gavray Drive
Thanks to our sustained and long term engagement with a planning application that threatened Gavray Meadows Local Wildlife Site, the inspector found our evidence that the development put the Local Wildlife Site at risk 'compelling' and accepted our key arguments. This was an excellent outcome and one that could be useful in negotiations with developers on other sites. 
FAQs
How do we collect the data in this report?

A rigorous monitoring programme has been in place across our nature reserves since 2002. We record the work we carry out on our reserves, as well as carrying out surveys for key species.

Biological and activity data for achievements in the wider countryside are patchier. We are working on developing a more strategic, unified approach.

We know that management activities such as coppicing or taking hay cuts are good for biodiversity, but records that those activities have taken place cannot alone be used to state that desired biodiversity benefits have been achieved. Instead, this report focuses on quantitative biodiversity outcomes. For example, the population size and trends of small blue butterflies on a given site would inform our assessments of the condition of that site, rather than records of how many metres of fencing have been installed.

The report was mostly written by our Biodiversity Team, with case studies submitted from staff across the organisation.

The survey data in this report have been diligently collected and processed by many hundreds of volunteers, staff and contractors for more than 15 years. Thank you all for your time, effort and dedication.
How does the state of our nature reserves and the land we influence compare with what is happening to wildlife across the UK?

It is important to be able to compare what is happening on our nature reserves with national, regional and local wildlife statuses, so that the data we collect can be put into context. This helps show to show whether a species trend is driven by site management or reflects a national trend due to factors outside our control.

Reports such as the State of Nature report have helped to highlight the plight of many UK species, but there is still a significant knowledge gap about the status of much of UK native flora and fauna, and in particular the condition of habitats and ecosystems as a whole. Approximate values are available for the numbers of hectares of Biodiversity Action Plan (BAP) habitats across England, but what condition they are in is largely unknown. The best data that exist are for the condition of Sites of Special Scientific Interest (SSSIs) - but assessments of these sites are only carried out every 6 years.

As such, it is hard to make any general comparisons. However, where accurate and informative data exist, comparisons have been made throughout the BBOWT Conservation Report between our nature reserves and the wider countryside.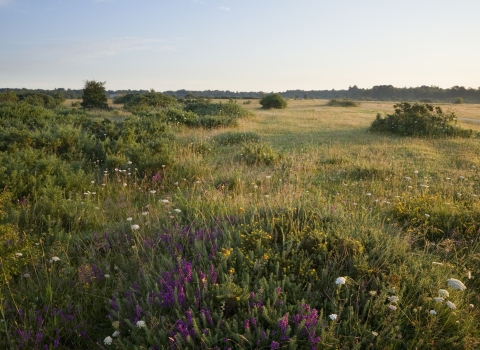 Download the Conservation Report
Read the full report on BBOWT's conservation work on our nature reserves and in the wider countryside.
Download the report