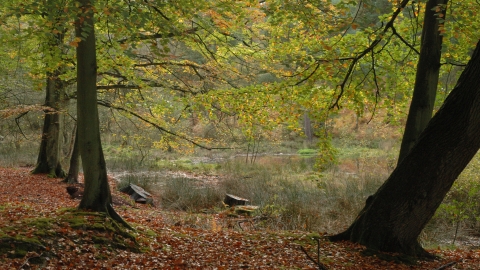 A pond rich in wildlife in the middle of a piece of ancient Berkshire common, Sole Common Pond has a great variety of habitats for its size.
Know before you go
Entry fee
No
Parking information
Take the A4 west from Newbury; take B4000 towards Wickham; after 2.75 miles turn right, towards Boxford; after 400 m turn left at track; park before the gate and without blocking access.
Access
Sloping; no paths, wet in valley
When to visit
Opening times
Open at all times
Best time to visit
March to November
About the reserve
Fascinating variety
A pond rich in wildlife with areas of bog, heath and woodland in the middle of a piece of ancient Berkshire common. This nature reserve certainly offers value in terms of sheer variety of habitats for its size.
Beautiful bog life
While the pond, heathland and mature woodland are well worth experiencing, the wildlife gem of this reserve is the bog and its beautiful plants.
In the bog, the insectivorous round-leaved sundew can be seen flowering from June to August. Valued as a herbal remedy for breathing problems, the sundew secretes a sticky fluid which traps and entangles unsuspecting insects. Also, look out for bogbean, marsh St John's-wort and the polypody fern.
Carpeted by bog-mosses, the bog has been damaged by collectors in the past although it is recovering well under BBOWT's careful management. Please avoid walking on the sphagnum bog as it is easily damaged.
Damsels and dragons
The pond is also brimming with wildlife. Fifteen species of damselfly and dragonfly have been recorded here - keeled skimmers are abundant over the open water.
The heathland has been invaded by birch and bracken. Listen out for wood warblers in the canopy. Woodcock probe the wet ground for worms and other food.
In autumn, the woodland floor is dotted with many brightly coloured fungi including the large and gaudy bitter beech bolete and the bright red beechwood sickener. The reserve is prone to flood in winter.
Contact us
Berks, Bucks & Oxon Wildlife Trust (BBOWT)