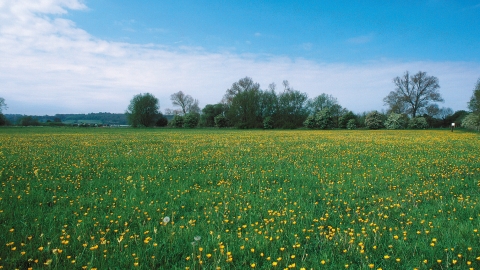 Dating back to before the Domesday Book, Oxey Mead is an ancient floodplain meadow graced by a variety of grasses and wild flowers, insects and birds.
Know before you go
Entry fee
No
Parking information
Parking in lay-by on A40 1.25 miles west of the A40/A44 (Wolvercote) roundabout; walk 0.75 miles east along A40 to reserve entrance.
Grazing animals
Yes
Access
Flat; wet in winter and spring; stiles, gate
When to visit
Opening times
Open at all times
Best time to visit
March to August
About the reserve
Medieval meadows
This small nature reserve is an echo of a bygone era, a time when swathes of wild flowers and butterflies were found in profusion in England's meadows and pastures. Between 1930 and 1984 an estimated 97% of these lowland grasslands went under the plough, or were drained.
Ox hay and cherry wood
Oxey (once Oxhay) is one of several surviving ancient 'lot' meadows near the city of Oxford which date to medieval times. Each year, villagers were alloted a strip of land to till by entering a lottery using cherry wood balls - each ball still carries the name of a 13th- or 14th-century villager.
Pageant of colour
In spring and summer, visitors are treated to a changing pageant of wild flowers, some as high as the swaying grasses. In early summer, the crimson heads of great burnet tower over smaller flowers such as common bird's-foot-trefoil, fairy flax and yellow rattle. In turn, the wild flowers attract butterflies including orange-tip, meadow brown and ringlet. Look out for the day-flying chimney sweeper moth with its distinctive black wings. Grasshoppers, spiders and beetles are also found in abundance.
Bird life
Skylarks sometimes hover high overhead. Waders such as snipe and redshank may be seen in the wetter winter months. 
Contact us
Berks, Bucks & Oxon Wildlife Trust (BBOWT)
Environmental designation
Site of Special Scientific Interest (SSSI)
Special Areas of Conservation (SAC)