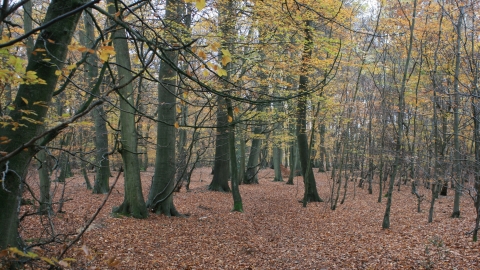 Traditional beech woodland with a peppering of birdsong and spring flowers.
Know before you go
Parking information
¼ mile west of Marlow on A4155 take right-hand turn (signposted Marlow Common). Follow road for ½ mile until fork in road. Entrance to reserve on southern side of road junction
Access
No easy access trails
When to visit
Opening times
Open at all times
Best time to visit
April to October
About the reserve
These woods near Marlow lie within the Chilterns Beechwoods Special Area of Conservation and the Chilterns Area of Outstanding Natural Beauty. They are also part of the Hollowhill and Pullingshill Woods Site of Special Scientific Interest. The Wildlife Trust took on the management of this site, which is owned by Bucks County Council, in November 2015.
Flora and fungi
Beech trees dominate the woods but there are also other species here including oak, ash, field maple, birch, larch and yew. Hazel, holly, hawthorn and wild privet grow below the main trees. Woodland plants, such as dogs mercury, enchanters nightshade, bluebells, ferns and wood sedge grow in patches across the ground. In autumn the beech leaves turn golden orange and the shady woodland floor supports an amazing array of fungi - more than 150 species have been recorded on this reserve. During spring bird's-nest orchids grow in the woods. These unusual yellow plants contain no green pigment at all. They are a parasite and gain their nutrients from the host trees.
Former heathland
Listen out for birdsong during spring when the woods are home to many species of nesting birds such as robins and blackbirds. The removal of coniferous trees from part of the site around 10 years ago allowed dormant plant seed buried in the soil to germinate. Acid-loving plants such as heath speedwell and trailing St John's-wort have appeared suggesting that the woodland would have been much more open in the past and would have formed a continuation of heathland extending up from the nearby Marlow Common.    
Habitat
Contact us
Berks, Bucks & Oxon Wildlife Trust (BBOWT)
Environmental designation
Site of Special Scientific Interest (SSSI)
Special Areas of Conservation (SAC)