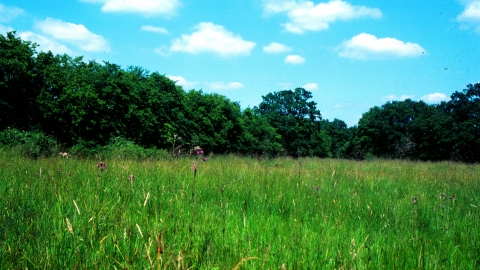 Avery's Pightle is one of Berkshire's few remaining unspoiled meadows. It is rich in insect life and nesting birds, and 137 species of plants have been recorded here.
Know before you go
Entry fee
No
Parking information
Park on soft verge on Church Lane, 0.5 miles south of Enbourne
Grazing animals
Yes
Access
Flat overall; uneven underfoot; ground soft after rain; gate
When to visit
Opening times
Open at all times
Best time to visit
March to August
About the reserve
Ancient meadow
Avery's Pightle (rhyme it with 'title') is an ancient meadow known for its abundance of wildlife. At one time such wet meadows were common, but now most of them have been drained, ploughed and fertilised for high-yield grasses or grain. Avery's Pightle is one of the few unspoiled meadows left in Berkshire. It shows what has been lost from our meadows in the way of wild flowers, insect life and homes for birds. Pightle is the medieval world for a small enclosed meadow.
Ridge and furrow
Ancient ridge and furrow lines can still be seen here. In summer when flowers clothe the ground, you can see stripes of different shades, because some plants prefer the drier ridges, while others thrive in water-holding furrows. The 137 species of plants recorded here include 16 species confined to ancient grasslands, such as adder's-tongue fern, pepper-saxifrage, betony and sneezewort. There are also orchids, and the area near the stream has a colony of broad-leaved helleborines.
Butterflies and birds
The reserve is also rich in insects and butterflies such as gatekeeper, meadow brown and ringlet. The thick hedges provide many nesting sites for yellowhammers and many lively little warblers.
Things to do
Help us manage this reserve by supporting us.
Species
Habitat
Contact us
Berks, Bucks & Oxon Wildlife Trust (BBOWT)
Environmental designation
Site of Special Scientific Interest (SSSI)