How to create your own wildflower meadow - part 2
Have you ever wanted to create a wildflower meadow? Julie and her family from Neve's Bees did too. Read on to follow the next part of their journey.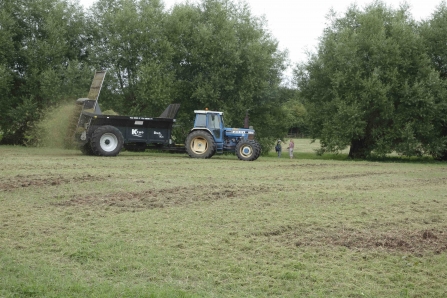 Step 5 - spreading the green hay
This was the super exciting day! We were lucky with the weather – it was a beautiful dry summer's day. The yellow rattle from our donor site (Kevan and Catriona Bass's Long Mead meadow) had ripened - the seeds were rattling in their pods and our field was tined and harrowed.
We woke early on 28th July, Graham and his farming friend Simon came with a cutter and trailer, and performed a stunning ballet-esque dance around 1 acre of Long Meadow cutting the green hay, chopping it up and blowing it into the trailer.
Each trailer load was them driven the 500m back to our field and sprayed all over. The whole procedure took about 5 hours and went to perfection.
Step 6 - rolling the field
– Finally, a couple of days later, Simon came back and rollered the field – to embed the seeds and prevent loss by the weather or being eaten by birds!
At this stage, the field looked awful! Our lovely grassy field, previously peppered with buttercups, dandelions and a few daisies now looked like a stripey ploughed field. Oh dear – what had we done!
[NB if you ever do embark on creating your own wildflower meadow, please don't lose heart at this stage – it does get better – promise!]
Then we just had to wait…
We had an outbreak of thistles in September but, thanks to Farmability (the charity for people with learning difficulties teaching them how to farm the land) for spending an afternoon with us pulling out A LOT of thistles!
There were a few nail-biting moments during the winter when the Thames, burst from its banks, sought refuge in the field. A few patches of the field remained underwater for weeks on end [they actually haven't suffered all that badly, perhaps they just have a different mix of plants now.]
In March 2020, when the meadow had started to grow, Ross once more undertook the somewhat tortuous task of cutting the grass back to about 5cm with his normal sit-down lawn mower. The purpose of this is to knock back the grasses to allow more light and nutrients to the germinating wildflower seeds.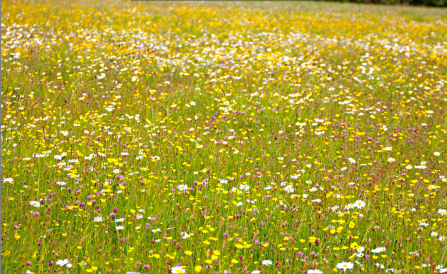 Drumroll moment…
We knew that one of the key signs of a successful wildflower meadow is the presence of yelllow rattle. This is pretty, yellow flowered annual that is semi-parasitic on the grass and so keeps it in check, allowing light and space for other plants to flourish.
Every day for weeks on end you could see either Ross or I scouring the field for signs of yellow rattle seedings – I'm sure any passers-by must have thought we'd lost a set of keys or an earring or something! Anyway, two weeks into April and we spotted a yellow rattle seedling, then another, then another – they are everywhere! Hooray!
So now we're in early May. The meadow looks amazing – an absolute abundance of buttercups with salad burnet, speedwell, dandelions, many different grass species, ox-eye daisies looking like they're coming up and lots and lots of yellow rattle.
We are told that our meadow will continue to evolve as different species flourish and die back, but we're confident that we have a great start point and will looks forward to spotting great burnet and even orchids in the years to come.
It's now June 2020 - the great news is that we have lots – lots and lots - of yellow rattle, all now going to seed and beginning to rattle so things are looking good for a truly sustainable meadow going forward!
 
PS ideally, meadows do best with grazing animals on the land between August and October/November – if anybody has any (ideally sheep) they are looking to graze for a few months a year in Eynsham, please do contact Julie via Neve's Bees – we might have a lovely holiday home for them!
 
How to make your own garden wilder
Neve's Bees, who make 100% natural skincare and gifts, are giving away a free pack of Bee-friendly Wildflower Seeds with every order over £10 from their website (while stocks last).