Wild Trax: young people working together for wildlife
The Wild Trax youth project aimed to get young people aged 11 to 18, living in Tring and Aylesbury, to enjoy the outdoors, develop new skills and use their passions to benefit nature. Find out what happened.
I think I've found my role in life
Watch our short film about Wild Trax, our project in partnership with Herts and Middlesex Wildlife Trust and the Natural History Museum at Tring.
Find out more about Wild Trax
After nearly three years of engaging with young people in Tring and Aylesbury, the Wild Trax project concluded in 2019. 
The Wild Trax project was devised in partnership with Berkshire, Buckinghamshire and Oxfordshire Wildlife Trust (BBOWT), Hertfordshire and Middlesex Wildlife Trust and the Natural History Museum at Tring, with funding provided by the Rothschild Foundation.
The project was created in response to concerns that young people are becoming increasingly disconnected from wildlife, and struggling with stress and health problems. The Wild Trax partners wanted to help change this, and to learn how best to engage with young people.
There's lots of evidence that being outdoors and engaging with nature can improve health and happiness, and decrease stress. The project aimed to bring these benefits to young people, aged 11 to 18 and living in Tring and Aylesbury, to help them enjoy the outdoors, develop new skills and use their passions to benefit nature. 
We've achieved lots through the Wild Trax project, including delivering taster days, assemblies and careers events, and developed strong links with three main schools and a youth organisation.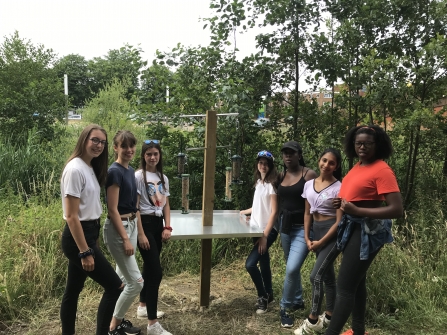 At The Mandeville School, in Aylesbury, we helped Year 8s design a new wildlife area in their school grounds, and established an after school club to implement and maintain it. We received £6,000 in funding from Thomas Cook Children's Charity and £250 from Mid County Co-op to develop their wildlife garden, which required substantial ground work from both BBOWT staff and the students.
 
We connected with students from Bucks UTC, who designed the Wild Trax logo, visited College Lake nature reserve to learn conservation skills, and built unique features for The Mandeville School's wildlife garden.
We regularly worked with Tring School's Outdoor Classroom Groups, who have an area at school known as the "outdoor classroom" where they spend a couple of hours a week learning practical life skills. We helped them to manage their area, and provided opportunities for them to learn about wildlife conservation through trips to our partner sites.
We're also partnered with Action 4 Youth, a youth group based in Aylesbury. Through the project, we were able to link into the "Charity pillar" of their "Inspiration Programme" where young people spent time learning about various charities, developing their practical and team working skills on a site visit and presenting to each other what they learned about the charity, and why it should be supported. We hosted two of these groups in January and two in April.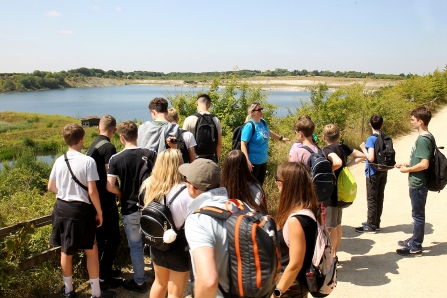 More recently, we linked up with Action 4 Youth's NCS programme. As part of the programme, young people help deliver a social action project. We had the perfect project for them as Aylesbury Town Centre Partnership and Aylesbury Vale District Council (AVDC) had also reached out to us to ask if we had a group who could to help them install new, wildlife-friendly features in the Bear Brook area by Aylesbury Waterside Theatre. Despite the heat in July, the group did a fantastic job of building and installing bird feeders and bird boxes, planting climbers and pulling up weeds to help manage the brook habitat. They seemed to have lots of fun, while meeting the targets of their programme, contributing to their community and benefiting wildlife.
It's been fantastic to see young people flourish and gain confidence when confronted with conservation challenges through this project. Wild Trax helped young people to have fun while investigating and conserving their natural world. This is clear from comments we received from our participants;
"I think I've found my role in life" 
 
"I really enjoyed helping to construct the bird boxes and making a difference to the local environment" 
 
"Thank you for an amazing trip... it has really opened my eyes on how I can contribute to the environment and its inhabitants"
Thank you to everyone who has supported Wild Trax. We have learned a lot from this project and the project partners are keen to continue the relationships we've built with schools and youth organisations in legacy of this project. 
Read more about Wild Trax