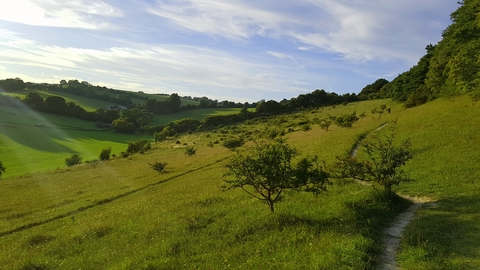 Situated in the Radnage valley, Yoesden is a beautiful example of the traditional Chiltern landscape in south Buckinghamshire. A swathe of chalk grassland undamaged by ploughing, fertilisers and intensive grazing is packed with rare butterflies and wild flowers and is topped by a 'hanger' woodland of beech, yew and whitebeam trees on the edge of a steeply sided valley.
Know before you go
Entry fee
No
Parking information
Park in Bledlow Ridge on Chinnor Road,close to The Boot Public House. Walk north-west along road for approx. 250m. Take footpath on left. Follow footpath for 200m before entering reserve. Please do not park at St Mary's Church in Radnage.
Grazing animals
Yes
Access
Sloping, steep and stony in places, muddy in places; kissing gates and gates; bench
When to visit
Opening times
Open at all times
Best time to visit
June to September
About the reserve
Please park at Bledlow Ridge when you visit Yoesden (see Parking information above). There is no public parking at St Mary's Church in Radnage. 
Diversity of butterflies and flowers
Yoesden is home to an impressive variety of butterflies. It is considered by many as one of the jewels of the Chilterns Area of Outstanding Natural Beauty for the numbers of butterflies found on site. 28 species have been recorded, including three scarce blue species: Adonis, chalkhill and small blue butterflies, all of which rely on the flower-rich grassland that makes up about half of the reserve.
Yoesden is equally important for chalk down land plants. Towards the end of June parts of the bank are pink with amazing shows of common spotted and fragrant orchids laced with the vivid yellow of bird's-foot trefoil, horseshoe vetch and kidney vetch - all plants so important for the butterfly species found here.
Late in the summer the colours change to a much deeper purple with carpets of Devil's-bit scabious, knapweed and Chiltern gentians starting to dominate areas of the grassland.
'Hanging' beech woodland
Above the chalk bank there runs a strip of mature beech woodland. It was once a hive of activity, being managed for timber for the furniture industry. It now echoes to the sound of great spotted woodpeckers, buzzards and red kites.
On the woodland floor, among the beech and yew trees, can be found some real woodland specialist plants including wood anemone, ramsons (wild garlic), primrose and bird's-nest orchid.     
Thank you to our supporters
The Heritage Lottery Fund supported BBOWT in 2014 when we had the opportunity to buy the land at Yoesden and transform it into a wildlife haven. A generous grant from Biffa Award in 2016 helped BBOWT to increase the size of the reserve by almost 30%, providing enormous long-term benefits for local wildlife.  
Reserve champions - supporting their favourite reserve
Mrs Anne Ling: "Spectacular rare chalk grassland also loved by Chris Barnes."
Things to do
Look out for our seasonal guided walks. 
Contact us
Berks, Bucks & Oxon Wildlife Trust (BBOWT)
Environmental designation
County Wildlife Site