Please note: a section of Dry Sandford Pit will be closed to the public May-October 2021 while filming takes place on neighbouring land. We have a license agreement with SDTA Productions Ltd for the closure of this part of the reserve. You can find a map of the area here. We apologise for the inconvenience.
A fascinating mosaic of fossil-rich cliffs, fenland with ponds and streams, grassland, scrub and woodland set in an old quarry.
Know before you go
Entry fee
No
Parking information
Surfaced car park, 100m west of Honeybottom Lane/Church Lane junction in Cothill village
Grazing animals
Yes
Walking trails
0.5 mile Wildlife Walk around reserve
Access
Look out for temporary signs warning of a footpath that's closed while we repair a footbridge. Undulating, steep cliffs; firm paths, some moderate slopes; kissing gates
When to visit
Opening times
Open at all times
Best time to visit
All year round
About the reserve
Nationally important
Geological wonders, nationally scarce fen and rich insect life make Dry Sandford Pit a nature reserve of national importance. Its extraordinary mosaic of fossil-rich cliffs, limey fenland, ponds, streams, chalk grassland, scrub and woodlands are all bursting with plants and animals, including rare species. The exposed layers of Dry Sandford Pit's low sand and limestone cliffs illustrate the various stages as the sea that once covered Oxfordshire receded. The cliffs contain many corals and visible fossils of marine creatures dating back to the Jurassic era.
Honeycombed cliffs
The cliff faces are very important for wildlife. Restoration work has cleared away scrub from these cliffs and trees have been coppiced. Solitary bees and wasps, including the five-banded tailed digger wasp, have burrowed into the soft sandy layers creating a honeycomb of tiny holes.
Flowery fen
In June, common spotted-orchids flower in the fen area, following twayblade in May and tens of thousands of beautiful marsh helleborines in July. Dotted amongst these are the purple spikes of the clove-scented marsh fragrant-orchid. Please take care not to trample this area. 
Reserve champions - supporting their favourite reserve Peter Creed: "A little jewel box filled with bees, butterflies and orchids."
Things to do
Explore Cothill Fen, one of the most diverse wildlife area in Oxfordshire, by downloading our circular walk leaflet
Try our circular Wildlife Walk (1/2 mile). Just follow the badger waymarkers.
Look out for our seasonal guided walks.
We run regular work parties on the reserve. 
Contact us
Berks, Bucks & Oxon Wildlife Trust (BBOWT)
Environmental designation
Site of Special Scientific Interest (SSSI)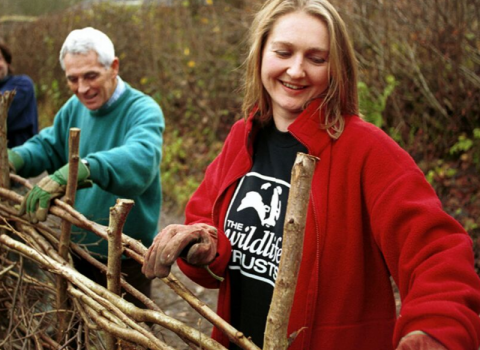 Volunteer with us
Our volunteers help us in so many ways - by working on nature reserves, helping at visitor centres, leading walks, training others and much, much more. Without our volunteers we would not be able to carry out much of our work.
For more information about volunteering for BBOWT, please get in touch with volunteering@bbowt.org.uk