An ancient chalk grassland site high on the Chilterns escarpment, with extensive views over Aylesbury Vale.
Know before you go
Entry fee
No
Parking information
Park in Wendover town - reserve is 0.25 miles walk along road signposted to Butler's Cross/Ellesborough
Grazing animals
Yes
Walking trails
Footpaths and bridleway through reserve.
Access
Sloping, steep in places, muddy in places. Kissing gates.
When to visit
Opening times
Open at all times
Best time to visit
March to November
About the reserve
A special place
Bacombe Hill is a precious fragment of chalk grassland, scrub and woodland. More than 100 years ago it was identified by Sir Charles Rothschild as a site to be protected. Subsequently, it became one of the original Rothschild Reserves.
Sweeping views of the Vale 
East of Coombe Hill and the last chalk hill before the Wendover Gap, this site has a commanding position on the Chilterns escarpment. Whatever the season, you can enjoy superb views over Wendover and Aylesbury Vale and watch red kites soar above the windswept hillside. Long ago this site held importance for Bronze Age settlers and you can still see the traces of two barrows and numerous other archaeological features here.
Chalk downland beauties 
Bacombe Hill is noted for its orchids and butterflies such as the pyramidal, chalk fragrant- and bee orchids and the chalkhill blue butterfly. Within the open chalk grassland you can also find clustered bellflower and carpets of wild thyme, both indicative of long-established chalk grassland.
Juniper, buckthorn and spindle 
Within the scrub, wayfaring tree, buckthorn and spindle grow – all plants that take centre stage in the early autumn months as their vibrant berries ripen. Of special interest is the population of juniper, a shrub which has drastically declined across the Chilterns in recent years, which in turn supports a number of rare insects, including the juniper shieldbug. On the slopes communities of whitebeam and ash dominate the woodland. While oak and birch thrive on the plateau. The wooded base of Bacombe Hill comprises hazel with birch, ash, beech and hawthorn.
Restoration project 
Bacombe Hill is a clear example of how much of the Chilterns scarp has changed during the 20th century. Once open chalk downland with little or no scrub, with changes in farming techniques and myxamatosis, livestock farming was given up in favour of arable production. If not possible to plough, much of the steep scarp of the Chilterns was abandoned and so the process of succession took hold. By the end of the 20th century the upper slopes were dominated by mature hawthorn scrub. In recent years Buckinghamshire County Council has carried out a lot of work to reverse this trend. In 2015 the Trust took on the long-term management of the site on behalf of Buckinghamshire County Council. The Trust will continue to restore the chalk grassland across the site with rotational scrub clearance as well as coppice work around the edge of the site to keep invasive trees in check.  
Contact us
Berks, Bucks & Oxon Wildlife Trust (BBOWT)
Environmental designation
Site of Special Scientific Interest (SSSI)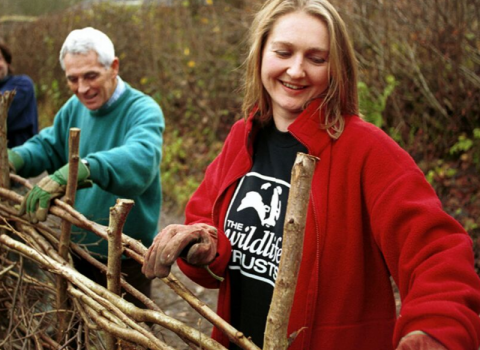 Volunteer with us
Our volunteers help us in so many ways - by working on nature reserves, helping at visitor centres, leading walks, training others and much, much more. Without our volunteers we would not be able to carry out much of our work.
For more information about volunteering for BBOWT, please get in touch with volunteering@bbowt.org.uk