The Wildlife Trusts and Jordans Cereals farmers work together to make space for wildlife on their farms
Farmland covers more than 70% of the UK's land area and therefore farmers are critical in helping bring about nature's recovery.
There are more than 30 passionate and dedicated farmers growing oats for Jordans; two of them are in BBOWT's patch.
Every Jordans farmer works with an expert farm advisor from their local Wildlife Trust.  A farm action plan is created for each farm, which helps the farmer to manage at least 10% of their land for wildlife.
Hedgerows, field margins, waterways and ponds are all managed to enable wildlife to thrive alongside fields of oats grown for Jordans Cereals. Farmers create year-round habitat for wildlife too: growing winter bird food such as millet, sunflower and kale, as well as pollen and nectar-rich plants for insects. 
Each plan also looks at the farm's location in the wider environment and aims to link and connect areas of habitat. This network allows wildlife to move through the landscape, which means it can better adapt to changes in its local environment.
Our industry-leading standard for land management has been developed in partnership between The Wildlife Trusts and Jordans. The Jordans Farm Partnership is a partnership between Jordans, The Wildlife Trusts, the Prince's Countryside Fund and LEAF (Linking Environment and Farming).
Read more on the Jordans website
You can find The Wildlife Trusts' logo on packs of Jordans cereals.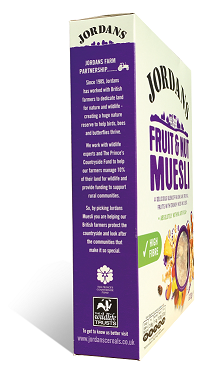 Conservation Focus Species
Each farm plan identifies at least four species as a focus to benefit from the conservation management by the Jordans farmers.
Here are some of the actions being undertaken by the Jordans Farm Partnership farmers to support these species on their farms: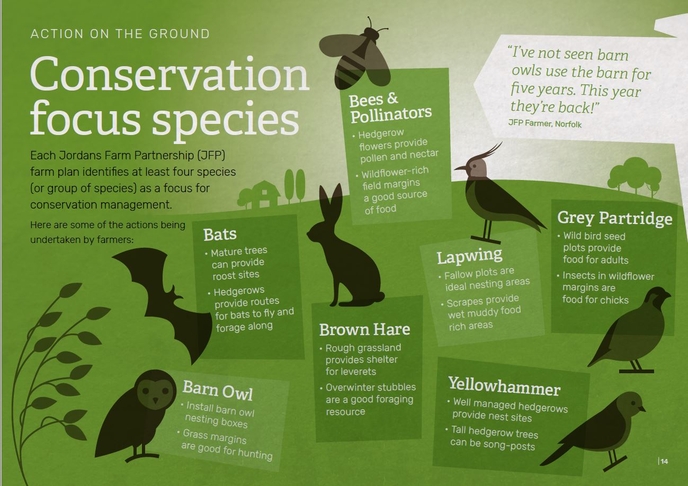 Stories from the farm
Learn about the passion and commitment from Jordans Farm Partnership oat growers and the wildlife successes they've had on their farms. Here are some of the stories from the farms.
Jordans Farm Partnership - Annual Impact Report 2018-19
Take a look at our impact report to see how Wildlife Trust advisors are supporting the farmers who grow oats for Jordans'  to do great things on their farms for wildlife.