There are many ways of making change happen and one of these is to lobby your local representative in person and/or in writing. Developing a relationship with your local politicians can be very effective and remember they are there to represent you – it is their job to listen to you!
You can find resources here to help you speak up for wildlife and make your campaigning voice heard.
If you are interested in helping wildlife by lobbying your MP and/or local councillors, please join our Wildlife Ambassadors.
We will contact you with suggested actions, including advice about what you can include in your communications.
We are currently campaigning on the following issues: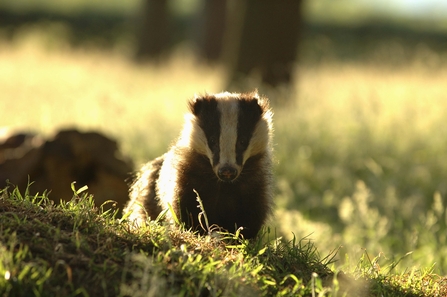 The Environment Act - On 10th November 2021 the Environment Bill finally became law! We have been campaigning on this for more than three years and are pleased to see it receiving Royal Assent in its current, much-strengthened form. Thank you to all of you who have campaigned to strengthen the bill, alongside many others including the Wildlife Trusts, other NGOs, MPs and Peers.

There are many reasons to celebrate this moment: legally binding targets for species abundance, new Local Nature Recovery Strategies, biodiversity net gain for new developments, and the creation of the Office for Environmental Protection will all help us to reverse nature's decline. However, despite our tireless campaigning, sadly the Environment Act does not live up to its promise to be a world leading piece of legislation. You can read more about this here.

The Government should be using every power it has to tackle the inseparable climate and nature emergencies. At COP26 the UK advertised itself as a global leader on climate action, but it is disappointing that despite containing valuable new commitments, the Environment Act fails to live up to that promise.

The onus is now on us to continue to hold Government to account and ensure weaknesses in the Act are not exploited. We will need your help to keep up the pressure.
 

Rethink the Arc - Government plans for rapid growth and development between Oxford and Cambridge, known as the Oxford-Cambridge Arc, risk damaging impacts on nature and climate unless they urgently rethink their approach. BBOWT, RSPB, The Woodland Trust, The Wildlife Trust for Bedfordshire Cambridgeshire and Northamptonshire, and CPRE have been calling on Government to rethink their plans and asking people to respond to a public consultation on 'the Arc' to tell Government they want to see nature and climate prioritised and prevent unsustainable and damaging development. This consultation is now closed.
 
Planning reform - the Government consulted on some proposed reforms to the planning laws last year. We were concerned because we thought the proposals would increase the threat to nature  rather than reduce it. The Wildlife Trusts have called for a new designation – Wildbelt – which we believe will help to allow nature's recovery. We expect the Government to bring forward legislation later this year, so keep your eyes open for more campaign actions .  For more information click here.
 
Badger culling - 37,000 people responded to the recent public consultation about the badger cull through our campaign – but it's not good news. Instead of agreeing to put a halt to badger culling licences from now on, the Government plans to keep licensing open until 2022. Natural England has recently announced that badger culling is to be extended into seven new areas of England this year, including Berkshire and Oxfordshire.  BBOWT is asking supporters to stand up for badgers by writing to their MPs to ask them to speak up on this issue in Parliament. Follow this link for an email template and add in your own comments. The more you personalise it, the more likely your MP is to take notice.
 
HS2 - we have been campaigning against this project since 2010, as it poses a serious threat to precious wildlife and habitats. Read the full report and the history of our campaigning work here.
 
Sale of peat compost - peat used in our compost is dug out of wild places, damaging some of the last remaining peatlands in the UK and overseas. This process also releases carbon into the atmosphere, accelerating climate change. The Government has recently announced that it will consult on banning the sale of peat and peat containing products in the amateur sector by the end of this parliament and publish a full consultation on phasing out the use of peat in horticulture in 2021. You can sign our petition to end peat sales here.
 
Wildlife & Countryside Act 1981 - Under this Act, species such as slow worms, grass snakes, water voles, purple emperor butterflies, toads and their habitats are protected from developments, hunting and sale. However, changes to the government's review process could mean that the threshold to attract such protections will be raised so plants and wildlife would only be protected if in "imminent danger of extinction." By the time a species qualified for protection, we would have already failed in our duties to give them opportunities to thrive. You can read more here and if you are worried by this news please write to your MP.
Useful resources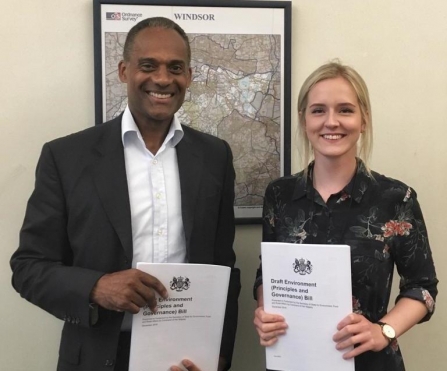 Blogs
These blogs describe how wildlife ambassadors have arranged, prepared for and followed up meetings with MPs. They provide plenty of advice about what to do if you are thinking of meeting your MP:
Now's the time to meet your MP by Hannah Needham
How to meet your MP and give wildlife a voice by Val Siddiqui
Videos
If you feel daunted by the idea of contacting your MP or councillor the video below aims to give you confidence and point you towards useful resources to help you to prepare and get your message across.
Find out how Government works and how we can best influence Government policy from Richard Benwell, Chief Executive of Wildlife and Countryside Link and former senior advisor at DEFRA.
Councillor Carolyne Culver from West Berkshire Council will tell us how best to contact your local authority councillor, how this has this changed since the pandemic, and what to do or not to do when contacting your councillor.
BBOWT Wildlife Ambassador Val Siddiqui will describe her considerable experience of lobbying using various methods including how to prepare for a meeting with an MP or councillor and how to follow it up.
This webinar from our Youth Summit for was aimed at campaigners aged between 14 and 25 but will be useful for anyone wanting to lobby their local representative. Our trio of inspiring speakers share their experiences and provide tips on how you can get more politically active. Workshop leaders include:
Nicky Warden, Public Affairs and Planning Officer at BBOWT, who outlines BBOWT's current campaigns, how we are working to influence local MPs and councillors and what you can do to help.
EJ Fawcett, a non-binary Youth Climate Activist who has been active in campaigning about the Climate Crisis for over two years.
Hannah Needham, a BBOWT conservation trainee from 2018 - 2019. She is now the Junior Director of the charity Heal Rewilding, and also delivers lobbying campaigns as part of the UK Youth for Nature team.
Who to contact
You can find out who your MP is here.
You can find out who your local councillor is here or try going straight to your Council website.
Contact us at publicaffairs@bbowt.org.uk for more advice on lobbying or to let us know what action you have taken and how your MP/councillor has responded.
More ways to help nature in your local community