Team Wilder story: From Nature Tots attendee to junior fundraiser
Emily Stallwood has grown from being a Nature Tots attendee to a fundraising superstar!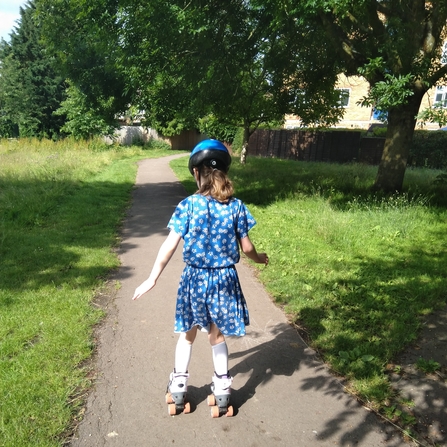 Imagine a wilder world on your doorstep, with more nature everywhere in urban and rural areas. Read about how Emily was inspired to become a junior fundraiser for her local Wildlife Trust as part of Team Wilder.
Emily attended Nature Tots at Woolley Firs with her mother, Caroline, for three years before she started school. She continued to come to Woolley Firs and supported lots of our summer family events during her school holidays.  
Recently Claire, senior education officer, received a letter from Emily's mum saying that Emily was working towards a badge for Brownies and wanted to raise money for a charity that meant a lot to her by doing a sponsored roller skate. She wanted to choose BBOWT, from all her experiences from visiting Woolley Firs.
Caroline, Emily's mum, wrote, ''She did it! Yesterday Emily did a sponsored roller skate around our area. She did 20 loops and skated 14km which was amazing.
"She has raised £85 for BBOWT and was particularly interested in the field mice/dormice project.''
Thank you Emily! 
More ways to be part of Team Wilder