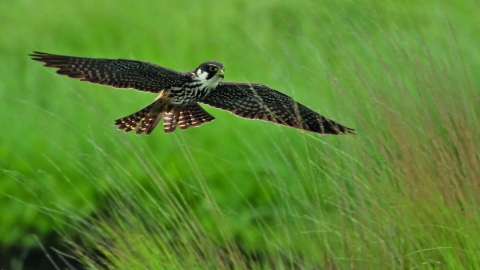 BBOWT Virtual AGM 2020
Location:
BBOWT Virtual meeting,
Berks, Bucks and Oxon
Book
This year, our AGM will be held online on Saturday 10 October.
About the event
BBOWT's AGM is open to members only. Scroll down to book your place and find details of how to join the virtual event.
The event will be recorded and will be available via our website, www.bbowt.org.uk/agm2020. You can also request a copy using the contact details below.
We have decided, due to the ongoing health crisis, that the AGM should be a digital event this year. It is new territory for us, but we hope as many members as possible will join us online.
During the AGM, we will hear reports from Estelle Bailey, Chief Executive, Joanna Simons, Chair of Trustees, and Graeme Thompson, BBOWT's Treasurer.
We ask that all voting takes place by proxy this year, and, where possible, electronically. Please see the details below about how to do this, or contact us for more information about voting.
We urge you to get in touch with any questions you may have so that we can respond to them as part of our AGM (see below for details).
We do hope that you are able to join us on Saturday 10 October, although a recording of the AGM will available via our website, too.
AGM documents
The AGM documents will be available to download from this webpage at least four weeks prior to the meeting. Please get in touch with us if you have trouble downloading the documents.
Voting
All voting at this year's AGM will need to be cast by proxy, which can be done by completing our online proxy form or by returning a printed copy to BBOWT's headquarters.
Both options will be available from here at least one month before the meeting. If you need help with voting, or would like to request a printed copy of the form be sent to you, please get in contact using the details below. 
Registering to join the virtual event
Please let us know that you would like to join the AGM by registering via Eventbrite below.
Instructions of how to join on the day will be sent to all those who have registered in advance of the event.
Questions for the AGM
Please submit any questions for the AGM here.
All questions need to be received by Saturday 3 October, one week prior to the AGM, to have a response provided during the meeting.
Any questions received after this date will not be dealt with at the AGM, but you will receive a response from a member of the BBOWT leadership team in due course.
Help and support
Please get in touch with us if you have any questions or need any support to be able to take part in our virtual AGM.
We will do our very best to ensure that everyone who wants to take part is able to do so.
Please email us on events@bbowt.org.uk or leave a message on 01865 788303 and someone will return your call as soon as possible.
Thank you