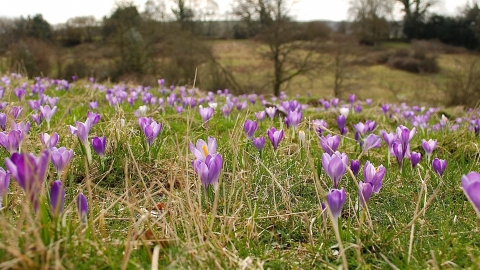 Hundreds of thousands of wild crocuses fill this Berkshire meadow each spring - but the delights don't stop there.
Know before you go
Entry fee
No
Parking information
In Inkpen village, park at recreation ground on Post Office Road; walk south 30 m; turn right into Pottery Lane; after 200 m take track on left between houses.
Grazing animals
Yes
Access
Sloping; rough underfoot, wet patches in winter; kissing gate
When to visit
Opening times
Open at all times
Best time to visit
February to August
About the reserve
Crocus delight
Inkpen Crocus Field is a pasture bordered by gardens on the north and east sides and sloping down to a brook to the south-west, where it rises again beyond. From late February to early April this field is awash with the purple and white of more than 400,000 blooms - Britain's largest wild display of spring crocuses. Their small heads, some plain, some striped, poke out of the ground at varying times, giving the visitor a window of more than a month to enjoy the flowers. The dark purple spring crocuses are distributed all over the first field, with a few having established themselves established in the grass beyond the stream, where you may also see small clumps of primrose in flower under scrub. The densest crocus colony can be found along the eastern side of the field. Take care for you will find crocuses beneath your feet wherever you walk.
One local legend has it that it was the 12th-century Crusaders who brought them back from central Europe. Others believe that they are garden escapees that have established themselves over the last 200 years.
Meadows and hedgerows
The crocus field slopes down to a spring-fed stream, then rises to become fine meadowland rich with wild flowers and butterflies, an especially rare habitat in Berkshire. Here you may see stalks of heath spotted-orchid with attractive white to purplish pink flower spikes.  Alongside the orchids, oxeye daisies, scabious and knapweed can be seen swaying in the breeze attracting gatekeeper and ringlet butterflies. One species of particular interest is the pignut - a relative of cow parsley. It grows from underground tubers commonly known as the 'nuts in May' gathered in a children's nursery rhyme. Along the edge of the pasture an old hedgerow offers food and refuge to a host of warblers including blackcap, chiffchaff, lesser whitethroat and willow warbler. These are often accompanied by flocks of finches and tits.
The Crocus Field at Inkpen, a Rothschild Reserve
In May 1912, the banker and expert naturalist Charles Rothschild founded the Society for Promotion of Nature Reserves – the organisation that would become the Wildlife Trusts. His vision was to identify and protect the best places for wildlife, and these became known as Rothschild Reserves.  The delights of the beautiful wildflower meadow in Berkshire were noted by botanist George Claridge Druce when he visited the site. He described the crocus field as 'old pasture' well known for remarkable displays of Crocus vernus. Inkpen Crocus Field became reserve 274 on the list of Rothschild Reserves.
Things to do
Explore the reserve and surrounding area with our Inkpen Wild Walk. Starting in Kintbury, this 17km circular walk takes in Inkpen Common and Inkpen Crocus Field nature reserves. There is a shorter 10km route that starts at Inkpen Common. OS Explorer Map 158, 1:25,000 scale, covers the route of this walk. 
Habitat
Contact us
Berks, Bucks & Oxon Wildlife Trust (BBOWT)
Environmental designation
Site of Special Scientific Interest (SSSI)