Our top 10 wildlife sightings in November
Winter migrants are arriving to spend the winter here, and there are colourful plants and fungi to discover.

Find out which wildlife to look for this month in our area.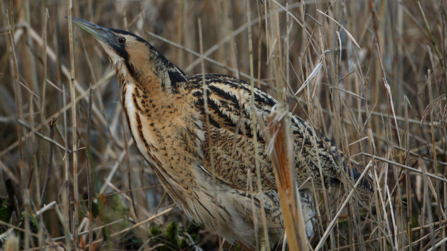 We are fortunate enough to have a bird, once extinct in Britain, now regularly seen in our area, particularly in winter as migrants move inland. The bittern is a thickset species of heron with incredible camouflage that helps it blend with its favoured habitat of reedbeds.
Time spent in a reedy area such as Calvert Jubilee, Hosehill Lake, and Thatcham Reedbeds could reward the patient birder. An added bonus whilst waiting for a bittern is hearing pig-like squeals from the reeds! This is the unmistakeable call of a water rail hiding in the vegetation.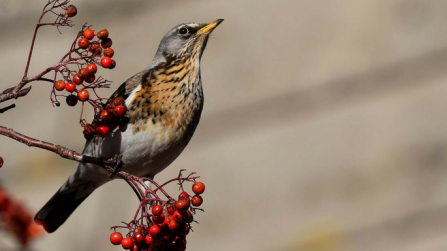 Flocks of fieldfare arrive in Britain to spend the winter months as our climate is warmer than northern and eastern Europe where they spend the summer.
These thrushes have grey heads and can appear quite 'upright' on the ground. Look out for large flocks feeding on grassland, including playing fields, and in hedgerows nearby.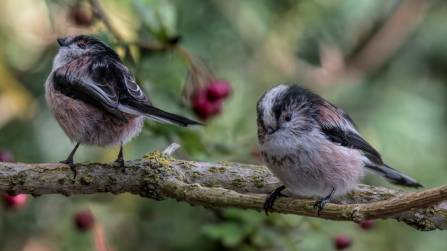 Look out for large, noisy flocks of busy long-tailed tits flitting around the trees as they search for insects to eat. The flocks are often joined by blue tits and great tits for safety in numbers from predators such as sparrowhawks looking for a meal. 
Long-tailed tits are easy to identify from their 'si-si-si' calls.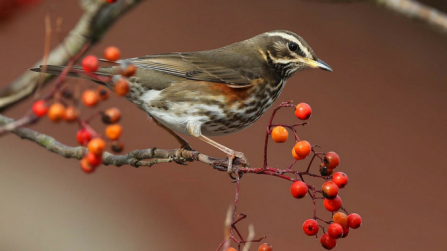 Listen out for a high-pitched 'tseep, tseep' at night. It's the sound of redwings flying high overhead as they arrive in Britain to spend the winter here.
They have a distinctive creamy white eye stripe and orangey/red patch under their wing.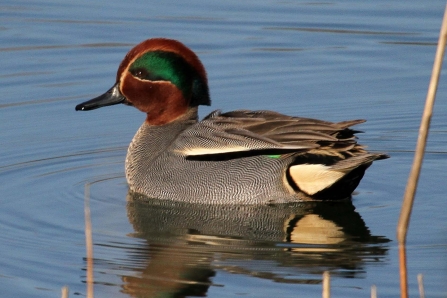 These little ducks dabble around for food on lakes, reservoirs and rivers. The males have distinctive green markings on their face, and a creamy patch at the base of the tail.
Birds that live here all year round are joined by more during the winter months. These winter visitors come for the milder climate.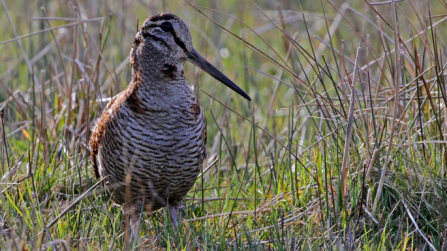 Woodcock can be found in many woodlands or hedgerows in winter as they roost after long nights feeding on open pasture. If you walk by one you will not miss it as it bursts out from beneath your feet with some determination!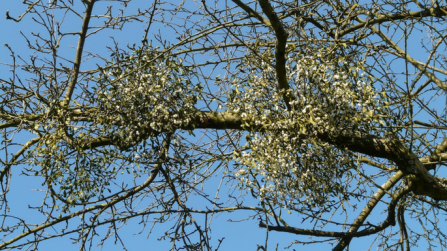 Mistletoe is the most intriguing of our festive greenery and very visible on some trees at this time of year. This common semi-parasite of willow, poplar and apple trees has no roots, relying instead on its host plant for the majority of its food and water.
The word mistletoe comes from two Anglo Saxon words: 'mistel' or dung and 'tan' or stick, which accurately describes one of the ways in which mistletoe is planted into a tree. Birds that have eaten mistletoe berries then pass out the seeds in their droppings onto twigs and branches where they take root and grow.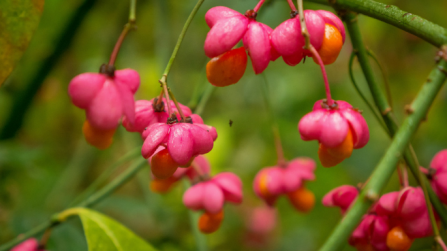 Spindle berries are unmissable with their clashing colours of shocking pink fruits bursting open to reveal orange seeds! Spindle often grows in hedgerows, alongside other trees and shrubs such as dogwood, guelder rose, hazel and hawthorn.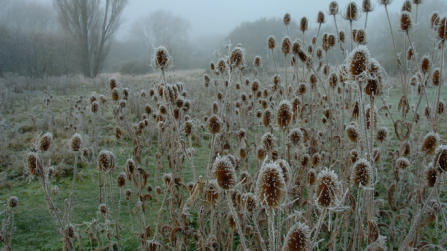 On chilly mornings, plants and seed heads such as teasel can take on artistic frosty forms. It's worth keeping seed heads standing in your garden through the winter, not only for their attractiveness for us on cold winter mornings, but for birds looking for food and insects that hide inside through the winter.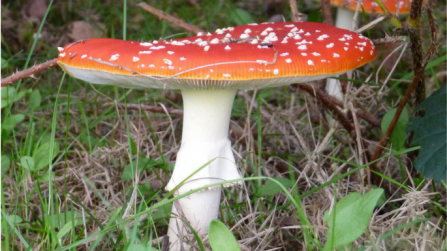 Keep an eye out after rainy days and nights as more fungi appear on rotting wood, woodland floors and grassland. Look out for fungi in all sorts of colours. There's more to fungi than a drab, brown toadstool!