Great nature reserves to visit in May
With nearly 90 nature reserves to choose from in our three counties, which are the best to visit this month?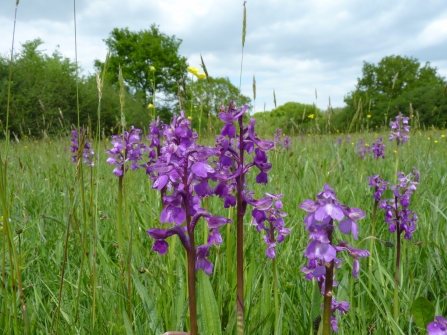 Bernwood Meadows, Bucks
Green-winged orchids flourish in their thousands at Bernwood Meadows. These orchids are now uncommon due to the widespread drainage of wet meadows but thanks to our careful management  we're able to enjoy a spectacular display here each spring.
The 'ridge-and-furrow' pattern in these meadows from traditional farming in days gone by supports a variety of species. Look for meadow buttercups on the drier ridges; damp-loving rushes and cuckooflower grow in the wetter furrows.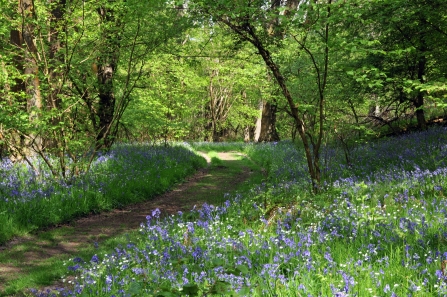 Bowdown Woods, Berks
The woodland at Bowdown Woods is awash with bluebells dotted with early-purple orchids and yellow archangel, and alive with the sound of birdsong. 
Breathe in the scent of English bluebells covering the woodland floor as you wander the paths. The Bomb Site walk is mostly flat and surfaced, an ideal route for everyone to be able to explore this nature reserve.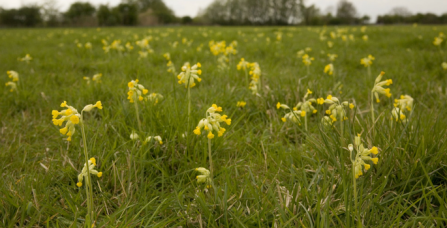 Chimney Meadows, Oxon
Fields of cowslips nodding in the breeze mark the start of the wild flowers blooming at Chimney Meadows.
This vast reserve in west Oxfordshire was once a commercial farm. The old arable fields are now transformed to wildflower meadows, and pastures now provide habitat for wading birds and waterfowl. Listen out for the bubbling call of the curlew. You might also catch a glimpse of a barn owl hunting over the fields.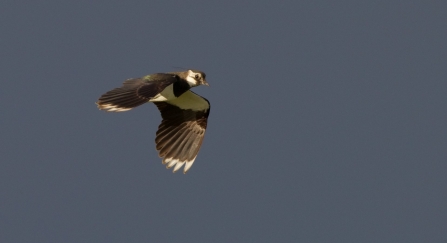 Hosehill Lake, Berks
This former gravel pit is now a nationally important area for birds such as nightingales, warblers and wintering wildfowl. At this time of year look out for lapwing and redshank feeding in the shallows. Listen out for nightingales in the scrubby areas around the lake. You might also be lucky enough to hear a cuckoo. Rafts out on the lake provide somewhere for common terns to nest in safety from predators.
The Fox and Hounds pub in Theale (just opposite the reserve) is kindly offering BBOWT members 15% off their delicious food and drink. Terms and conditions apply, call the pub on 0118 930 2295 for further information.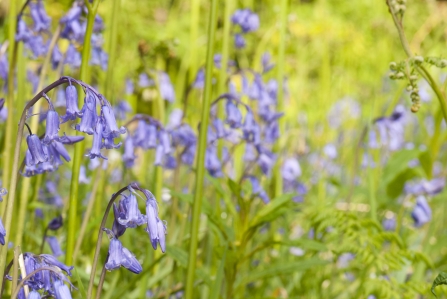 Warburg Nature Reserve, Oxon
Warburg Nature Reserve is a tranquil reserve nestled in the Chilterns. Visit it as part of our circular Henley Wild Walk, or alternatively why not walk to the reserve from nearby Maidensgrove or Nettlebed. 
There's a Tramper mobility scooter available to hire, free of charge, from the interpretation centre. If you'd like to borrow this please contact us beforehand to arrange this – call 01491 642001 or email warburg@bbowt.org.uk.
Children can borrow a Nature Detectives pack from the interpretation centre and discover the reserve's seasonal wildlife.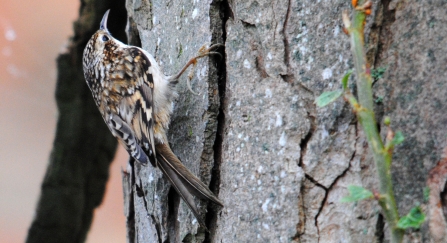 Little Linford Wood, Bucks
Stroll around this woodland just a few miles north of Milton Keynes. There's a mix of young woodland  growing up in areas previously used for timber, and mature oak and ash. Look out for spring flowers blooming on the woodland floor, like bluebells and wood sorrel.
The woods are full of birds busy nesting at this time of year. Listen out for great spotted woodpeckers drumming on old trees. See if you can catch a glimpse of a treecreeper hunting for insects on tree trunks.