West Berkshire Wild Verges
Transforming roadsides into wildlife super highways
The West Berkshire Wild Verges Project is a collaborative project between the Berks, Bucks and Oxon Wildlife Trust and West Berkshire Council (WBC), which has fully funded the work. With more than 1,700km of rural road verges under its stewardship, the council is keen to use them to make space for nature.
Road verges can support a huge range of wildlife including native wildflowers such as oxeye daisies, bee orchids, yellow rattle and many others. These plants are invaluable in providing nectar throughout the spring, summer and beyond for bumblebees and other important pollinators. Verges also offer shelter for birds and small mammals, as well as acting as safe corridors for a wide range of other species.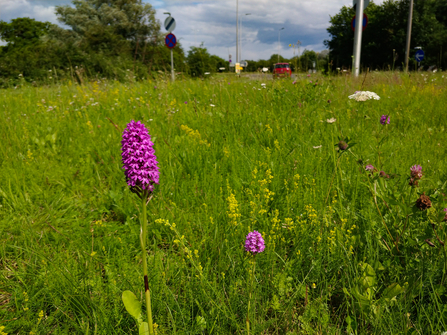 Rural road verges managed by WBC cover an estimated 520 hectares – that's almost 730 football pitches! The Wild Verges project will identify areas of high biodiversity and work to improve the rural verge network of West Berkshire as a whole.
The project aims to encourage native flora and fauna through more sympathetic management at key times of year. A change in the cutting regime will allow wild plants to set seed, as well as protecting ground-nesting birds and mammals, and will lead to better connected wild areas.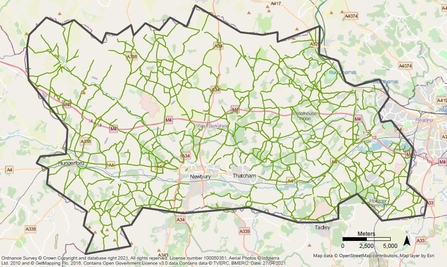 How the project works
In year one we will start the delivery of a monitoring scheme across West Berkshire's verges. The results will be used to create a new, tailored cutting schedule for the road verges of West Berkshire. This will help create species-rich and biodiverse verges for the benefit of local wildlife and local people alike – without sacrificing road safety.
A team of volunteers will be trained and will work alongside us to carry out the surveys. We will be looking at which botanical communities are present on different verges, which will help inform any future changes in verge management.
We are keen to get local communities involved and will be contacting parishes and local interest groups to help engage them with the project and to keep them up-to-date with our progress. This is particularly important, as one of the project's key objectives is to raise awareness of the importance of roadside verges for nature, and to encourage a sense of ownership and pride in our local environment.
To find out more about the project, contact simon_c@bbowt.org.uk.
How you can get involved
Volunteer involvement
To create an effective management plan, we need to collect a lot of data –what's currently growing, what the adjacent habitats and landuse are, and information on various characteristics such as verge width, slope, presence of a footpath, vegetation height, etc.
To collect this data, we've created a two-tier survey method: a simpler, shorter survey for verges with less floristic variety and a longer, more in-depth survey that looks at a list of botanical indicators that will allow us to classify the more biodiverse verges. This will also allow both amateur and more advanced botanists to get involved.
If you'd like to volunteer to help the project email volunteering@bbowt.org.uk.
Local parishes
We'll be contacting local parish councils to see if they'd like to get involved with bringing back native wildflowers into their green spaces, such as village greens, lawns and parks. We'll be providing resources to help parishioners identify and encourage wildflowers on their local verges and we're also hoping we might find some un-tapped local knowledge.
Case studies
Find out about other road verge projects around the UK by using the links below.
Habitats
Find out more about the habitats that the Wild Verges project works to conserve.
Species
These habitats are home to lots of different species of plant, bird and mammal, including threatened species. Find out more about the different species that the project aims to conserve and protect.
This project is a partnership between the Berks, Bucks and Oxon Wildlife Trust and West Berkshire Council.
Extra funding came from the council's Climate Change Bond Fund, which gives people the chance to invest money in the environment through Abundance Investments.
Other ways to help
For anyone who would like to get involved, but doesn't have any experience with plants, there is another survey that has been launched across the UK: the Pollinator Monitoring Scheme (PoMS), and its Flower-Insect Timed (FIT) Count.
This is accessible for people of all knowledge levels – a simplified survey of insects visiting small patches of flowers. It only takes 10 minutes and can be done using your phone through the PoMS app
Android: https://play.google.com/store/apps/details?id=uk.ac.ceh.fit