Padworth Common nature reserve is a tranquil haven for wildlife with heathland, woodland, ponds and alder-lined gullies.
Know before you go
Parking information
Take the A4 from Reading towards Newbury. Approaching Aldermaston Wharf turn left onto Padworth Lane, which then becomes Rectory Rd. After just over 2 miles, fork right, just before jctn with main road. The car park with height barrier is on your right
Walking trails
Several public footpaths and bridleways and other minor paths cross the common which is itself bisected by the main road.
Access
Paths on north common remain relatively dry throughout the year whereas those on south common are seasonally wet but more level. Terrain is largely flat.
When to visit
Opening times
Open at all hours
Best time to visit
March to September
About the reserve
A diverse heathland
The purple swathes of open heathland are set among a tapestry of ancient oaks, grasslands, ponds and pine trees. The common also reveals carpets of moss over undulating mounds of wet heathland. The edges and slopes of the heathland dip down into gnarled oaks and alder in the wet gullies. In spring, marsh-marigold, lesser celandine and opposite-leaved golden-saxifrage grow in abundance here.
A sanctuary for specialists
The heathland supports a community of rare, specialist species. In the summer months at dusk, you may hear the long vibrato song of the nightjar resonating across the open heath. A number of other heathland birds are either resident or regularly breed here such as Dartford warbler, tree pipit, stonechat and woodlark.
Reptiles and amphibians
Padworth is also home to a number of reptiles including adder, grass snake and slow-worm. Amphibians include common frog, toad and both palmate and smooth newts.
Beautiful butterflies and other insects
During the spring and summer months the heath buzzes with activity, butterflies including the elusive grayling use the heath. It is hard to spot on gravelly areas basking with wings closed and tilted in a peculiar fashion. When disturbed it reveals a vivid eye-spot to ward off potential predators. You may be lucky to see the emerald glint of a green tiger beetle passing along the tracks, or hear the buzzing notes from a bog bush-cricket, crawling among the wet areas of purple moor-grass.
A bustling pond
A lovely way to while away half an hour or so is to sit near the main pond on North Common and enjoy the darting dragonflies and damselflies. They include the broad-bodied chaser, golden-ringed dragonfly, downy emerald and common hawker. Here you can also spot a variety of aquatic insects and larvae.
A link to the Kennet
The common is nestled on the upper plateau of the Kennet Valley and can form part of a walk down to the River Kennet and back, past a Norman church, Padworth College and the Kennet and Avon Canal. The paths on this reserve enable anyone wishing to get away from busy life to enjoy a quiet walk for a few hours. 
Padworth Common is managed by the Berks, Bucks and Oxon Wildlife Trust on behalf of West Berkshire Council.
Habitat
Contact us
Berks, Bucks & Oxon Wildlife Trust (BBOWT)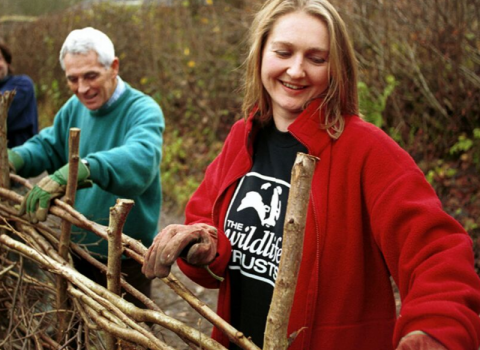 Volunteer with us
Our volunteers help us in so many ways - by working on nature reserves, helping at visitor centres, leading walks, training others and much, much more. Without our volunteers we would not be able to carry out much of our work.
For more information about volunteering for BBOWT, please get in touch with volunteering@bbowt.org.uk