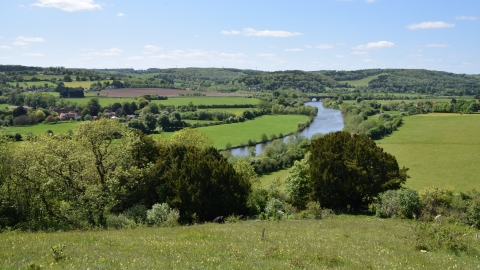 Enjoy magnificent views of the winding River Thames and sloping chalk grassland full of national rarities.
Location
Know before you go
Entry fee
No
Parking information
Park in Goring and walk for 1.5 miles along the Thames Path. No parking on unclassified road near reserve. Goring railway station is 1 mile from reserve.
Grazing animals
Yes
Access
Steep slopes, firm paths; long flight of steps
When to visit
Opening times
Open at all times. No parking on site or in the road leading to the reserve.
Best time to visit
March to August
About the reserve
Orchids galore
Bee, pyramidal and common spotted-orchids, common twayblade and white helleborine grow on this sloping grassland. In May or early June, the famous monkey orchids flower here, too. These are so rare that they only grow in two other places in the UK and are protected by law. When the Trust took over this steep chalk hillside overlooking the Thames there were just seven plants, now they number more than 400. In 2006, BBOWT was amazed to find a hybrid of the monkey and lady orchids at Hartslock, the only place in Britain where this hybrid has been recorded.  A rich variety of wild grasses and other flowers thrives on the thin soils and south-facing slopes,too. In July, the whole hillside is carpeted with pale mauve marjoram.
Insects too
The reserve is also excellent for insects, featuring a variety of bee species, uncommon shieldbugs, grasshoppers and day-flying moths. Butterflies include the lovely chalkhill blue, green hairstreak and grizzled skipper. The occasional visit by the rare Adonis blue adds a further splash of colour with the brilliant turquoise-blue of the male butterfly.
River views and kites
On summer evenings, enjoy the wonderful river views, and watch swallows skimming the pasture and red kites soaring overhead. 
Hartslock Wood, a Rothschild Reserve
In May 1912 the banker and expert naturalist Charles Rothschild founded the Society for Promotion of Nature Reserves – the organisation that would become the Wildlife Trusts. His vision was to identify and protect the best places for wildlife, and these became known as Rothschild Reserves. 100 years ago Hartslock Wood and the land bordering the Thames as far as Gatehampton was recommended for inclusion on the list of Rothschild Reserves. Read Simon Barnes' e-book Prophet and Loss which describes his visit to Hartslock in 2015 and how Rothschild vision has helped to protect this beautiful nature reserve.
Things to do
Explore the reserve and surrounding area with our Goring WIld Walk. Starting in Goring, this 8km circular walk takes in Hartslock nature reserve and a section of the Thames Path. OS Explorer Map 171, 1:25,000 scale, covers the route of this walk. 
Habitat
Contact us
Berks, Bucks & Oxon Wildlife Trust (BBOWT)
Environmental designation
Site of Special Scientific Interest (SSSI)
Special Areas of Conservation (SAC)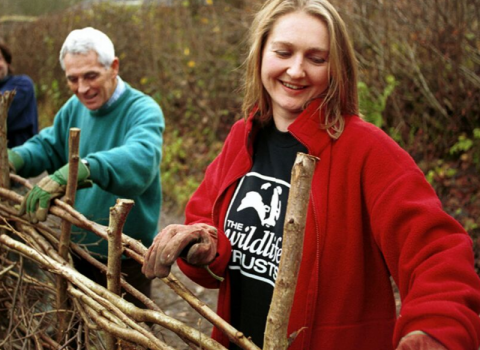 Volunteer with us
Our volunteers help us in so many ways - by working on nature reserves, helping at visitor centres, leading walks, training others and much, much more. Without our volunteers we would not be able to carry out much of our work.
For more information about volunteering for BBOWT, please get in touch with volunteering@bbowt.org.uk