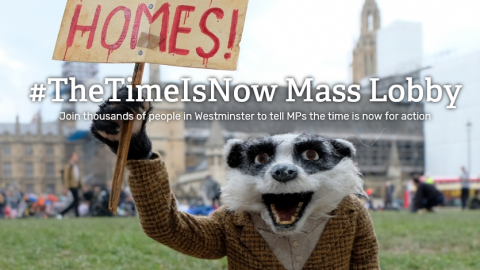 The Time Is Now: Mass Lobby for Wildlife, Climate and People
Location:
Houses of Parliament ,
Bridge St,
Westminster,
London,
SW1A 2PW
Sign up now to be a part of a Mass Lobby outside Parliament for a wilder, safer and greener future.
Event details
About the event
Our world is under threat like never before from a climate and ecological breakdown. We are joining hundreds of other environmental organisations in a mass lobby to tell politicians that now is the time to act.  Please join us to represent wildlife's voice.
On Wednesday 26 June, supporters of the Berks, Bucks and Oxon Wildlife Trust will join thousands of people gathering at Westminster, central London. We will call on our politicians to set the foundations for a brighter, greener and safer world. People across the globe are suffering from the effects of climate change and our wildlife populations are being wiped out.
The time is now for MPs to end the UK's contribution to climate change and pass ambitious laws for nature's recovery on land and at sea. We simply don't have time to waste. Join us to show our politicians the way to a #WilderFuture.
We are the last generation that can stop devastating climate change and set nature on the path to recovery. We have the solutions, but we need to show there's the will. Together, our voices are powerful.
We must tell our leaders: #TheTimeIsNow
What is this Mass Lobby?
Thousands will join an organised lobby line queuing around Westminster, grouped by constituency and full of people keen to talk to their MPs about the environment.
1pm: The lobby begins. It may take a while to find your constituency's area, so please allow plenty of time and ensure you're in the lobby line by 1pm. There will be signposts for regions and constituencies — see the guide for more details.
2pm: Alarm clock moment! Whilst gathering in the lobby line, we're going to set off as many alarm clocks as possible. By doing so, we will send a message to Westminster that they need to wake up and respond to the challenges our beautiful world is facing. Bring a portable alarm clock from home or use your phone!
1-4pm: Meet your MPs around parliament. We are hoping at least 10,000 Wildlife Trust supporters from across the country will meet with their MPs in the streets around Parliament, all at the same time!
How to get there
We advise everyone to use public transport or car sharing where possible. For those attending the lobby, the discount code CCL2019 will get you 25% off National Express coaches to Victoria Coach Station on the day.
This event is organised by the Climate Coalition, an organisation dedicated to climate action in the United Kingdom. The Wildlife Trusts are members of the Climate Coalition.
See the official #TheTimeIsNow guide here for further information
(Please use the booking system below to let us know you are planning on coming to the Mass Lobby)
Know before you go
Mobility
Accessible to all including wheelchair users