Posted: Sunday 29th July 2018 by bbowtblog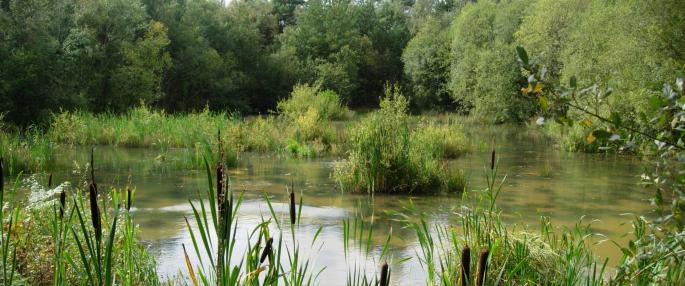 Decoy Heath by Kate Dent
With nearly 90 nature reserves to choose from in our three counties, which are the best to visit this month?
Here are our top reserves in Berks, Bucks and Oxon to visit during August. We love hearing about your visits to our reserves. Let us know what wildlife you see when you visit them. Share your photos of our reserves with us on Twitter and Facebook or upload them to our Flickr gallery.
Click on the photos to go to the reserve webpage for more information and how to get there.
Berks
Escape the heat with a shady woodland walk. Bowdown Woods has plenty of paths to explore. Look out for silver-washed fritillary and white admiral butterflies in the sunny woodland glades. Dragonflies and damselflies flit over the streams and ponds. You may even catch a glimpse of reptiles such as common lizards and grass snakes basking in the sunshine on the remains of the wartime buildings in the Bomb Site.
This small reserve in West Berkshire is part of a larger wildlife site named after the adjacent track from Lambourn, the White Shute By-way. Fragments of wildflower-rich chalk grassland, like Watts Bank, have usually survived because they are situated on a hill or earthworks which are unsuitable for ploughing.
This grassland hillside is a natural sun trap, sheltered from wind by patches of scrub at each corner. It is very attractive to butterflies, with an impressive 32 species recorded, including chalkhill blue (above), green hairstreak, brown argus and dingy skipper, attracted by the wide variety of wild flowers.
Bucks
The Ridgeway National Trail passes through Grangelands. Pause on a walk through the reserve and sit a while on the slopes to enjoy the wonderful views. Watch as common blue, marbled white and chalkhill blue butterflies flit from flower to flower. The chalkhill blue is limited to chalk grassland as it lays its eggs only on horseshoe vetch, which only grows here.
Common rock-rose is a low-growing, creeping shrub with bright yellow clusters of flowers, which provide plenty of nectar for various bees and is also the foodplant of several species of butterfly such as the brown argus. Look out for other colourful wild flowers, including gentians and harebells. Find out how to tell the difference between Chiltern gentians and the more common autumn gentian in our infographic.
Yoesden is one of the best places in Bucks for butterflies. In August, look for a flash of electric blue from the male Adonis blue butterfly. These butterflies fly between mid-May and mid-June and again from early August until mid-September as they have two broods each year. The caterpillars have an interesting relationship with ants, which are attracted by a sweet secretion, and even a "Siren's song" produced by the caterpillar. In return the caterpillar is tended and guarded by the ants helping it evade potential predators.
Take a moment to sit on the bench on the edge of the woodland and enjoy the views across the valley.
Oxon
High in the Chilterns, Chinnor Hill nature reserve offers far-reaching views. Stop for a moment to enjoy watching soaring buzzards and red kites, riding the thermals on a sunny day. Chinnor Hill is a chalk grassland reserve, with wild flowers including lady's bedstraw, eyebright and salad burnet. Autumn gentians should be starting to flower in August too.
Close to Barton on the edge of Oxford, Sydlings Copse is a treasure trove for wildlife enthusiasts. There is an area of heathland, a rare habitat for Oxfordshire, which includes patches of gorse that attracts flocks of linnets. Escape from the heat and wander through the cool, shady woodland then explore the limestone grassland with wild flowers that attract butterflies and other insects.
Other shady woodland reserves include Foxholes near Burford and Warburg Nature Reserve near Henley-on-Thames.
Things to do