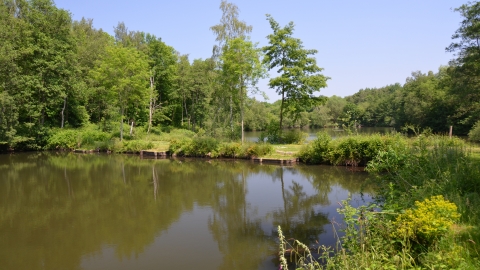 Paices Wood Country Parkland
A wonderful place for a walk through varied scenery including woodland, heathland, lakes and ponds.

Know before you go
Parking information
Off the A340 south of Aldermaston. Follow the brown Country Park signs. There are three car parks.
Walking trails
There are a number of waymarked routes around the reserve.
Access
Routes around the lakes are generally level but there are several steeper routes, particularly through the woodland.
When to visit
Opening times
January: 7am - 4pm
Feb - Mar: 7am - 6pm
April: 7am - 8pm
May - Aug: 7am - 9pm
Sep - Oct: 7am - 8pm
Nov - Dec: 7am - 4pm
Best time to visit
All year round
About the reserve
Beautiful all year round
In spring bluebells carpet the woodland floor. On sunny days during the summer you can see butterflies such as the common blue fluttering across woodland clearings. Later in the year keep an eye out for fungi such as chicken of the woods springing up on logs and stumps of wood.
Refuge for amphibians
On one side of the lake is a network of ponds and grassland filled with amphibian life. 
Fishing available
Seven Lakes Angling run a day ticket fishery in the park. Tickets available on the banks or buy online.
Things to do
Wildlife walks: Orange (approx 3 miles) guides you around different features such as the lakes, woodland and amphibian area. Blue (approx 1.3 miles) concentrates on woodland, ranging from alder coppice in the wet bottom of the valley to sweet chestnut and cherry trees further up the valley. 
Management
Paices Wood is managed by the Berks, Bucks and Oxon Wildlife Trust alongside the landowner, Young Estates & Land Ltd, on behalf of West Berkshire Council.
Contact us
Berks, Bucks & Oxon Wildlife Trust (BBOWT) in conjunction with Young Estates & Land Ltd (owners)